3D printed medical models have come a long way in helping doctors in their approach to specific surgical procedures. If there is one area where 3D printing excels and that is the best demonstration of unique complex geometry and high value, it is probably medical applications. Every person has a unique body composition and therefore custom solutions and treatments must be tailored to different individuals.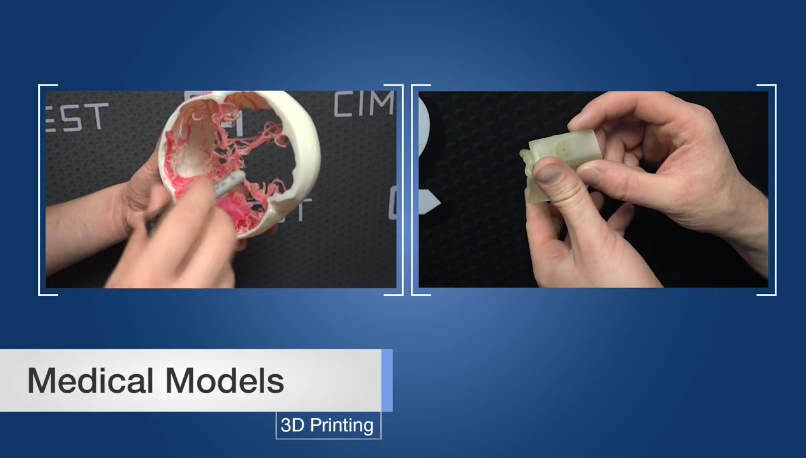 A patient of the Jacobs institute was diagnosed with a life-threatening cerebral aneurysm in her brain. With the help of 3D printing, surgical teams now have an advanced tool to help them find the right method to isolate the patient's blood vessel, helping reduce risks associated with delays and potential complications with various surgical approaches. While there are several options for treatment, no two aneurysms are identical and it's necessary to have deep knowledge of a patient's vascular anatomy. In this case, doctors were able to derive a tangible 3D model of the aneurysm based on patient CT scans.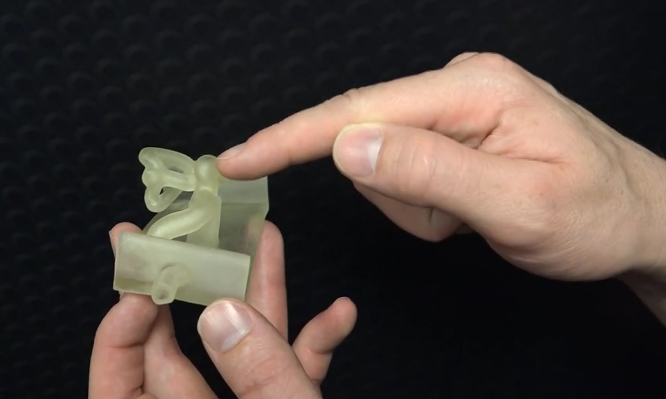 The 3D model, printed using flexible TangoPlus photopolymer, gave the doctors the opportunity to not only inspect a life-sized replica of the aneurysm, but also conduct a series of pre-surgical tests against several treatment options.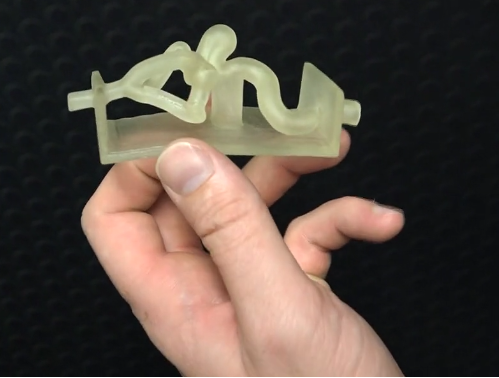 The model enabled the team to develop a treatment plan that improved the likelihood of this mother of the three having a positive outcome in an otherwise frightening situation. Equally important, it avoided having to change the treatment plan on the fly, when the patient was on the surgical table.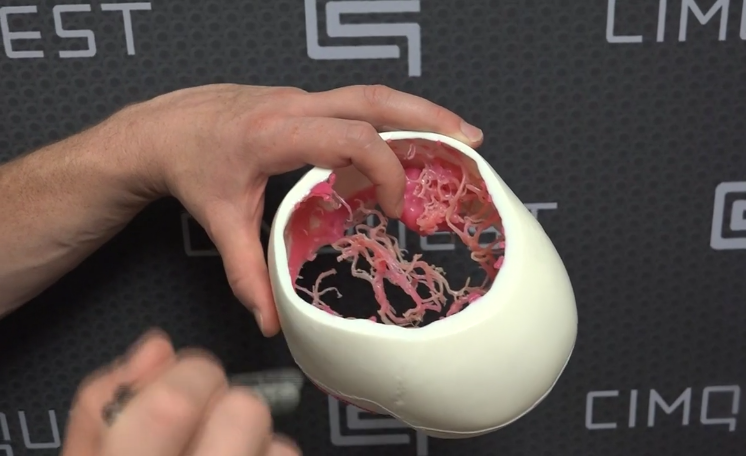 In our second example, we have a model of select vasculature in the brain and a printed representation of a tumor. The surgeon referenced the printed model to help inform him of how to conduct the procedure to avoid damaging areas surrounding the tumor.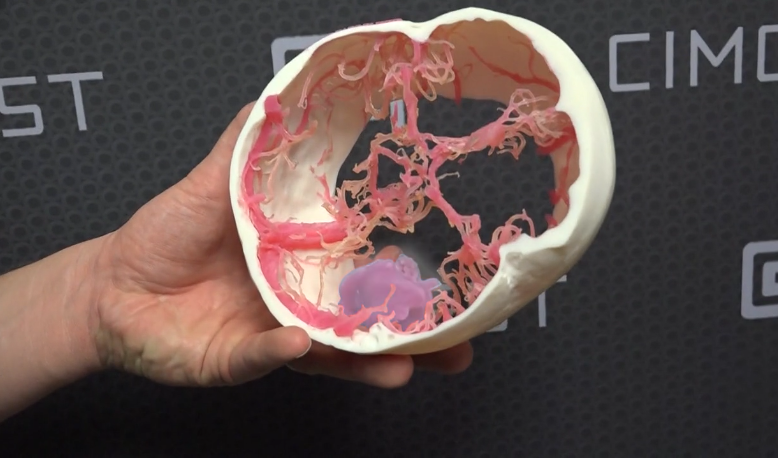 Additionally the residents removed portions from the tumor on the printed model at the same time as the neurosurgeon was doing the operation. In this way, the surgeon was able to see in real time how much more tumor he had left to remove. This is a remarkable example of how a printed model not only helps planning but also improves clarity during live surgical procedures.
For more information on our complete line of 3D printers, please click the button below.
[button link="http://cimquest-inc.com/products/stratasys-3d-printing-solutions/" color="default" size="" stretch="" type="" shape="" target="_self" title="" gradient_colors="|" gradient_hover_colors="|" accent_color="" accent_hover_color="" bevel_color="" border_width="1px" icon="" icon_divider="yes" icon_position="left" modal="" animation_type="0″ animation_direction="down" animation_speed="0.1″ animation_offset="" alignment="left" class="" id=""]More Info[/button]