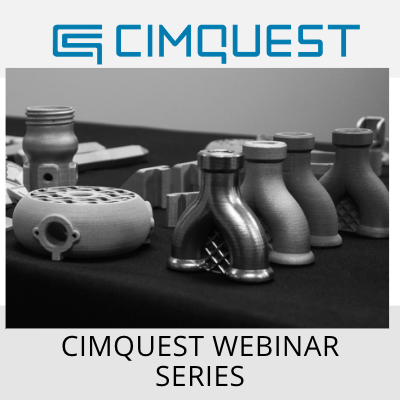 A MIM-Based Approach to Metal 3D Printing from Entry to Production Webinar Series
May 31 @ 10:00 AM

-

June 8 @ 11:00 AM
A MIM-Based Approach to Metal 3D Printing from Entry to Production
Most engineers turn to MIM when they need to produce parts, especially small or complex ones that previously could not be efficiently manufactured with any other process. Since one mold is required to make a part with MIM, the process is highly repeatable yielding parts that are uniform in size, shape, and strength.
While MIM has a range of benefits, Metal 3D Printing has entered the manufacturing scene and is taking a MIM-based approach to producing parts more efficiently. Furthermore, this process yields parts with high strength, durability, chemical resistance, and numerous other benefits. Metal 3D Printing has allowed manufacturers, educational institutions, service bureaus, and many more to create parts that are ideal for industrial applications using high-performance, end-use engineering.
Learn about Metal 3D Printing, from entry level to production level, in this four-part webinar series where professionals from BASF, UltiMaker, DSH Technologies, and Desktop Metal will dive into their solutions, applications, benefits, and limitations. By the end of this event, you will be well-versed in this ever-growing aspect of Additive Manufacturing, providing you with insight into the right solution(s) your business needs.
There are 4 webinars in this series, the registration button will take you to the series where you be registered for  the entire series.
Thursday, June 8th
During this webinar, we will explore the benefits of the Studio System, and demonstrate how it can help you streamline your process, reduce costs, and enhance your overall workflow. We will also showcase several customer applications and success stories, highlighting the diverse range of industries and use cases that have already benefited from the power of the Studio System.

Watch the Recordings of Previous Sessions
Wednesday, May 31st
BASF's Ultrafuse® 316L and 17-4 PH metal filaments are designed for ultimate ease of handling and use on conventional Fused Filament Fabrication 3D printers. Learn how BASF leverages years of metal expertise, along with design considerations and partnerships, to make stainless steel 3D Printed parts both highly accessible and at an affordable cost of ownership.

Thursday,  June 1st

Tuesday, June 6th
The mission of this session is to help people understand what debind and sinter technology is all about. Let's turn the black box into a glass box. DSH will walk through what the processing steps are, how it functions and share some examples of successes and failures.
Share This Story, Choose Your Platform!