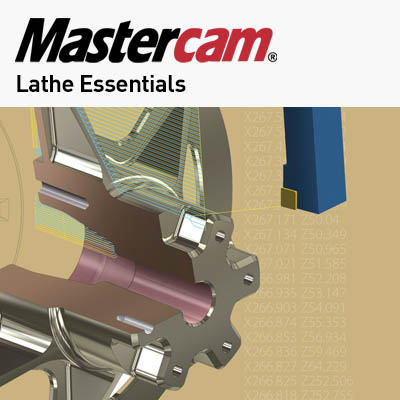 Lathe – Butler, PA (In-Person or Remote)
Duration: 2 Days
Prerequisite: Mill Essentials. (For students that are only programming 2-axis parts just then basic Windows PC skills, fundamental operation & setup knowledge of a CNC lathe and turning tools and working through the following pre-class downloads.)
Pre-class Prep Download:
Description:
Our Instructor will mentor you in creating Mastercam 2-axis lathe toolpaths along with C&Y axis milling  toolpaths. Students will learn from instructor lead exercises then work on over 30 different student exercises covering 2D wireframe then importing and manipulating Solid models for tool path creation for facing, drilling and rough & finish turning. Last, students will program several C & Y axis parts with live tooling. For each program created, you will post g-code, back plot and verify.
Details:
Lathe Essentials covers the following topics: 
Mastercam interface navigation basics

Lathe Planes and Align to Z

Chaining

Geometry creation & importing

Turn Profile Creation

Common toolpaths- facing, drilling, rough & finish turning

Tool libraries

Plane setup

Dynamic Turning Toolpath

Prime Turning Toolpaths

C Axis toolpaths

Wireframe / 3D Custom Tools
Share This Story, Choose Your Platform!