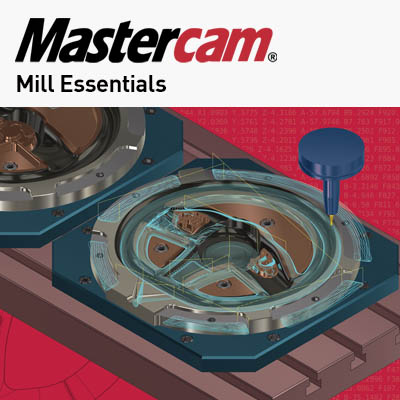 Mill Essentials – Butler, PA (In-Person or Remote) REGISTRATION CLOSED
Duration: 4 Days
Prerequisite: Basic PC skills and general CNC mill setup and operation knowledge
Pre-class Prep Download:
Description:
Our Instructor will mentor you in the basics of Mastercam icon functions, geometry and tool path creation that will lead to you to programming many different parts from start to finish. You will learn the foundational principles of basic 2½ axis tool paths and build upon them by programming many real world examples to develop your abilities. You will be able to create and work with basic 2D wireframe and then import and manipulate Solid models for tool path creation in drilling cycles, advanced pocketing, helical entry and the use of dynamic milling. Last you will be able to program rotary axis substitution and index units.
Details:
Mill Essentials covers the following topics:
Mastercam Interface and layout
Creating/Modifying 2D wireframe geometry
2D drafting (notes, dimensions, etc.)
Transforming geometry (rotate, scale, etc.)
Levels control
Creating and manipulating Solid Models
Preparing to Machine – machine definition and properties
Tool Path Utilities – toolpath manager, verify, back plot and posting
2D contouring, pocketing, and drilling
Chaining basics
Advanced Geometry creation
Tool control (ramping, lead in/out)
Patterns
Helical entry
Dynamic Milling – advanced contouring and pocketing
Advanced drilling
Work offsets
Share This Story, Choose Your Platform!