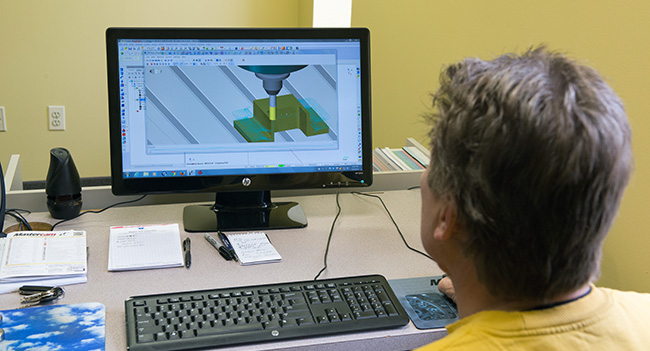 CAD software, or computer-aided design software, is the tool that designers, engineers, and programmers use to model parts virtually. With CAD, you can create models from scratch, modify and optimize existing models, and even reverse-engineer physical parts. When a shop uses its CAD software efficiently, it can maximize output, part quality, and profits.
Direct Modeling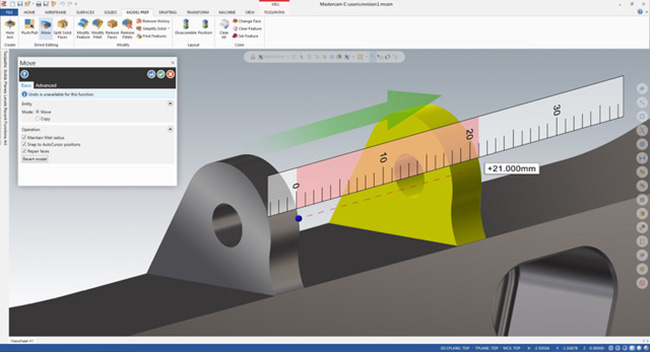 The last thing a manufacturer wants to worry about when working with a client's model is having to go back and forth a hundred times to made edits to the file. Luckily, Direct Modeling allows you to make edits in-situ for any imported model, which eliminates the need to refer back to the original creator of the model. Time that would have been spent playing phone tag or dealing with misunderstandings can be focused on optimizing the part or even on other projects.
New to Mastercam 2022:
Programmers can graphically edit, move, and copy wireframe geometry simply by double-clicking an entity or by dragging their mouse.
Push-Pull direct editing function allows the editing of multiple solid bodies at once by simply dragging geometries with the mouse or by entering a delta value.
Users can control mass adjustments to imported assemblies even with no solid history.
Solid Disassemble
Manufacturers that work with imported models often have to deal with complex assemblies. Deconstructing these models is the best way to determine how to program each geometry and the part as a whole. Solid Disassemble automatically breaks down assemblies into machinable components that you can manipulate individually. With Geometry Nesting, these components are then laid out on sheets of virtual material to show how the most components can be made from the least material.
New to Mastercam 2022:
Full mesh support is offered in Nesting and Solid Disassembly so that assemblies that are a mix of traditional solid bodies and mesh data are fully supported throughout the entire process, eliminating the need to prepare or re-model mesh geometry from external sources.
Creating Hole Plugs

When a geometry contains holes, its modeling and machining processes become more challenging. Mastercam's Model Preparation Add History tool automatically recognizes hole data from the solid model. By doing this, it can parametrize hole profiles, extract the solid history, and even create separate solid plugs for each hole. You can then select and suppress individual holes so that you can focus on attaining a high-quality surface finish. Machine the part as if the holes were never there at all, or continue the process with the holes intact.
Mesh Editing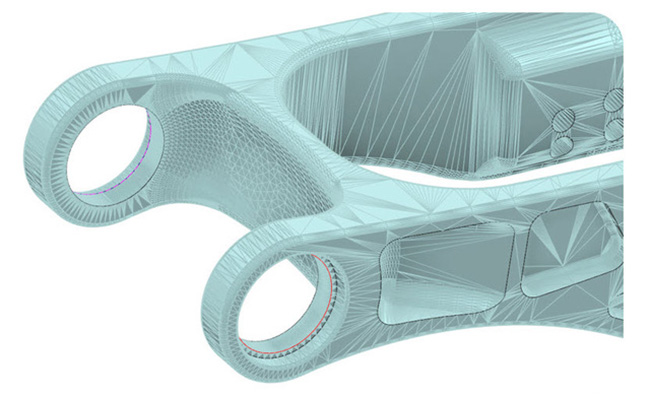 Unfortunately, most imported mesh models are produced from scanned data and arrive at a shop unoptimized. Mesh editing is now enabled in Mastercam products so that you can create and edit meshes directly within the software and you are not limited by what your customer has provided as a model (STL, MF, etc.). With this feature, you can fix scan imperfections to create contiguous surfaces, reduce unnecessary details that bloat the file size, and make the file suitable for toolpath creation.
Chaining and Extruding Notes
Adding notes and texts to geometries can be useful for organization and can even add aesthetic value. With Mastercam 2022, you can control engraving operations with more detail. The software will automatically update when a note is edited in any way. This eliminates the need to define the text as a fixed geometry – when the geometry moves, the text will move with it.
Capable CAD Means a Capable Shop
Mastercam's advanced CAD solutions can benefit any shop, from big international manufacturers to small hobby shops. It is designed to make modeling easy from start to finish and to work with any setup. Its incredible file import functionality means that it is compatible with almost any file format, and it can pair with powerful Third Party add-ons such as Moldplus SA and Verisurf. Learn more about Mastercam products by clicking below.