Mastercam's "CAD for CAM" Design Tools Provide Flexibility and Ease of Use
Mastercam is known for precision NC programming, but it also delivers a suite of shop-tested design tools aimed at getting parts on and off the machine as quickly as possible. Powerful modeling tools include not only 3D surfacing and solids, but hole-filling, direct editing without a solids history, geometry repair, and more.
Mastercam Design streamlines and simplifies modeling and editing geometry. It also supports advanced geometry creation, including solid and surface modeling, hybrid machining, NURBS curves and surfaces, 2D and 3D associative dimensioning, surface extension, blending, trimming, splitting, variable filleting, and hybrid modeling to complete your jobs quicker and more efficiently.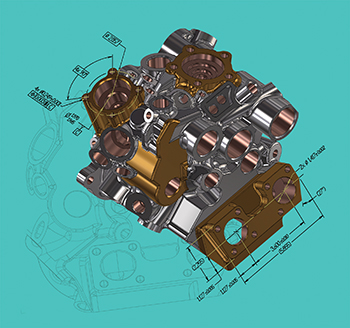 Solid Enhancements
Mastercam Design has the power to recognize hole geometry—including intersecting and non-conventional holes—in solid bodies with no history. Once Mastercam discovers these holes, you can use expanded options to save your custom holes to a template for future use. Users can use Mastercam's Add History function to detect complex holes in solid bodies. Simply select Hole operations to find all holes within the range of minimum and maximum radius values that are entered. Mastercam creates an operation for each unique detected hole style.
Wireframe Enhancements
Modifying geometry by dragging your mouse is now available for Trim to Entities, Fillet Entities, and Chamfer Entities functions. As you drag the mouse, Mastercam performs the function on the wireframe entities your mouse encounters. Mastercam now also has the ability to incorporate DrillPt functionality into small arcs.
Note Enhancements
Mastercam makes it easier to create text for notes and labels by adding many of the capabilities of the Create Letters function into the Note function. Note's redesigned function panel gives users improved usability, more options, and increased control.
Other Mastercam Design Improvements
Two new flowline functions, Edit UV and Reflow UV, can be used to analyze and modify the – UV direction on surface models to more effectively utilize the flowline milling toolpaths.
Ability to mirror geometry about both the X and Y axes in one operation.
Draw a window to select multiple faces when you want to change the color of a set of solid faces.
And much more.
For more information on Mastercam on all of the Mastercam products, please click below.