Hundreds of CNC programmers, CNC machinists, 3D scanning experts, 3D printing specialists, and other manufacturing professionals came together at this year's Xpand3D event to discuss new technologies. Speaker Tom Kryger, Application Engineer and Mastercam Technical Specialist here at Cimquest, used his breakout session to explain how stock models can be invaluable tools for the CNC programmer.
For Kryger, using stock models is a consistent part of his regular workflow, as these visual aids help to make more intelligent programming decisions, save time, and even assist with Verification. Stock models are generated in the Toolpath Operations Manager and saved within Mastercam; there's no need to connect with an outside CAD model. When Kryger begins with a new stock model, the first thing he does is name it appropriately. He recommends following a set system for the whole shop so that any employee can find a file quickly and easily. Kryger then selects colors for the different components within the model to quickly identify toolpaths used on each. The Translucent function in View is perfect for hiding non-target components.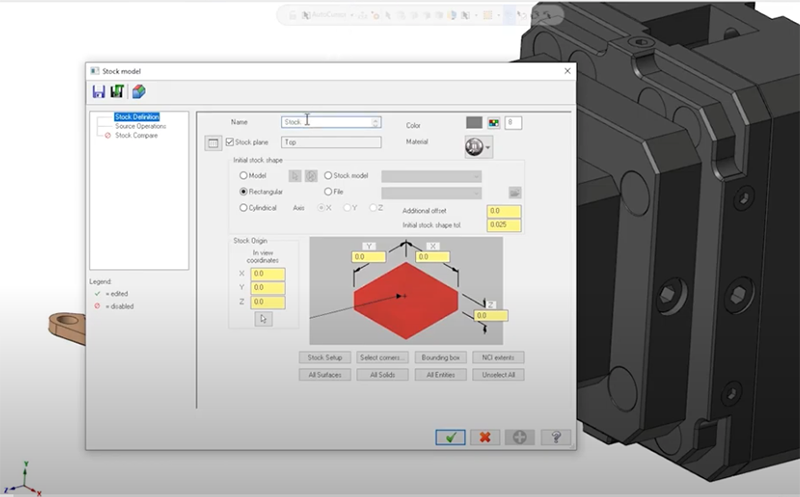 Kryger never uses OptiRough, an advanced roughing tool powered by Dynamic Motion technology, without a stock model.
"OptiRough is the best toolpath for roughing by far in my opinion," he shared. "It is widely used in the industry for its ability to remove great amounts of material in little time."
The toolpath, he continued to explain, works as a two-step process—angle adjustment and the step up. "What we think of a step over is converted into AOE, or angle of engagement. The toolpath adjusts the motion so that the tool is always in a safe optimum cutting condition. The second part is the step up feature. I like to use bullnose endmills to rough and then semi-finish the surface during the step up. The tool will follow the profile to help remove more material on the way up." Kryger's goal is to get as near to the net shape as possible during roughing so that his finishing tool can work faster.
Using stock models with OptiRough gives programmers the best of both worlds if they create new stock models after each operation because the new stock model will display where leftover material still needs to be removed. Again, the distinction between material that has been cut already and material that still needs to be cut is most easily made with the color feature. Eventually, programmers will have a final stock model that they can use for inspection. With the software's simulation functions like Backplot and Verify, users can check the model for any missed materials or mistakes. At the end, the stock model will reveal exactly what the final part should be.
For more information on Mastercam products, please click below.