It's time to start thinking about options to update your valuable Mastercam CAD/CAM investment.
With the upcoming release of Mastercam 2022, Mastercam 2019 will be three versions removed from the latest CAD/CAM technology now on the market. Plus, in two more releases, Mastercam 2019 will sunset, at which point updates and support will no longer be available. You can keep those benefits by updating to the current version of Mastercam, at a fraction of the cost of purchasing the latest version outright.
Mastercam 2019 delivered cutting-edge technology when it was released, but valuable productivity improvements have since been developed — across the entire suite of Mastercam solutions — including advances in the breakthrough Dynamic Motion® and Accelerated Finishing® technologies.
Many of the latest developments are the result of direct feedback from Mastercam users pushing efficiency and productivity targets. Here are some highlights since Mastercam 2019 that you can add to your CAD/CAM capabilities when you update.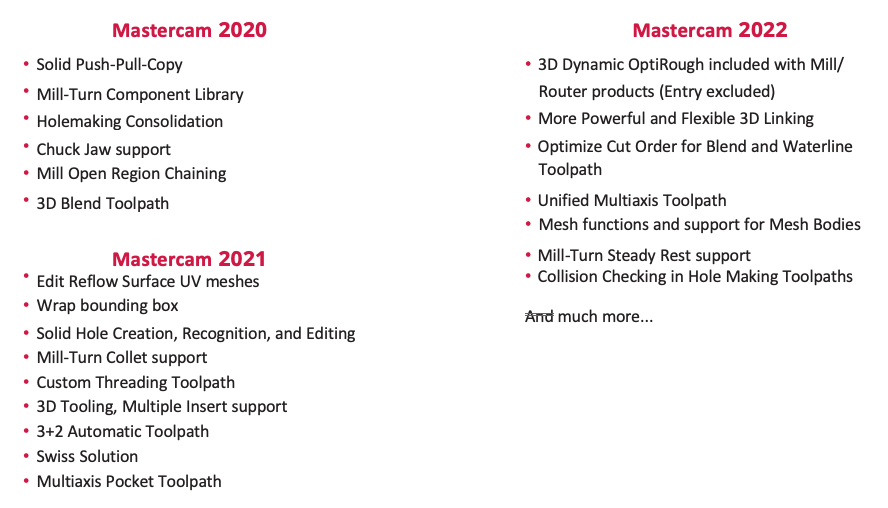 The good news is you can update Mastercam 2019 at any point up until it sunsets. You can plan an update at a time that works best for your organization to gain dramatic savings and revolutionary, industry-changing technologies for your CNC manufacturing needs. Just contact us to discuss your Mastercam update options.