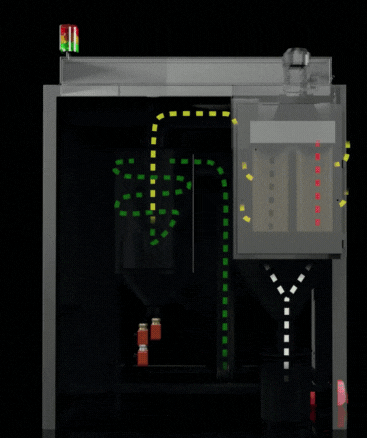 DESIGNED SPECIFICALLY FOR ADDITIVE MANUFACTURING INDUSTRY
Equipped with an ionization unit that reduces static electricity, and therefore results in "dust-free" parts.
Cyclone provides efficient and effective blast media and dust separation to ensure an optimal operating mixture.
Ventilator system with high extraction rate to prevent dust build up in the working chamber and enhanced visibility.
Quick-clean sealed dust bin to store waste dust and powder from the filter unit.
PostPro DP Studio
Compact Depowdering System For Small Parts And Low Volumes
The DP Studio seamlessly integrates into compact operational spaces, automating the depowdering of small components. While compact, it retains the full range of benefits as its larger counterparts, encapsulated in a smaller package.
BASKET VOLUME
10 Litres
COMPATIBLE TECHNOLOGIES
SLS, MJF, SAF
KEY FEATURES
Small machine footprint
ATEX Certified
Adjustable Basket and Nozzle
Ionisation Unit
Automatic Blasting
Strong Cyclone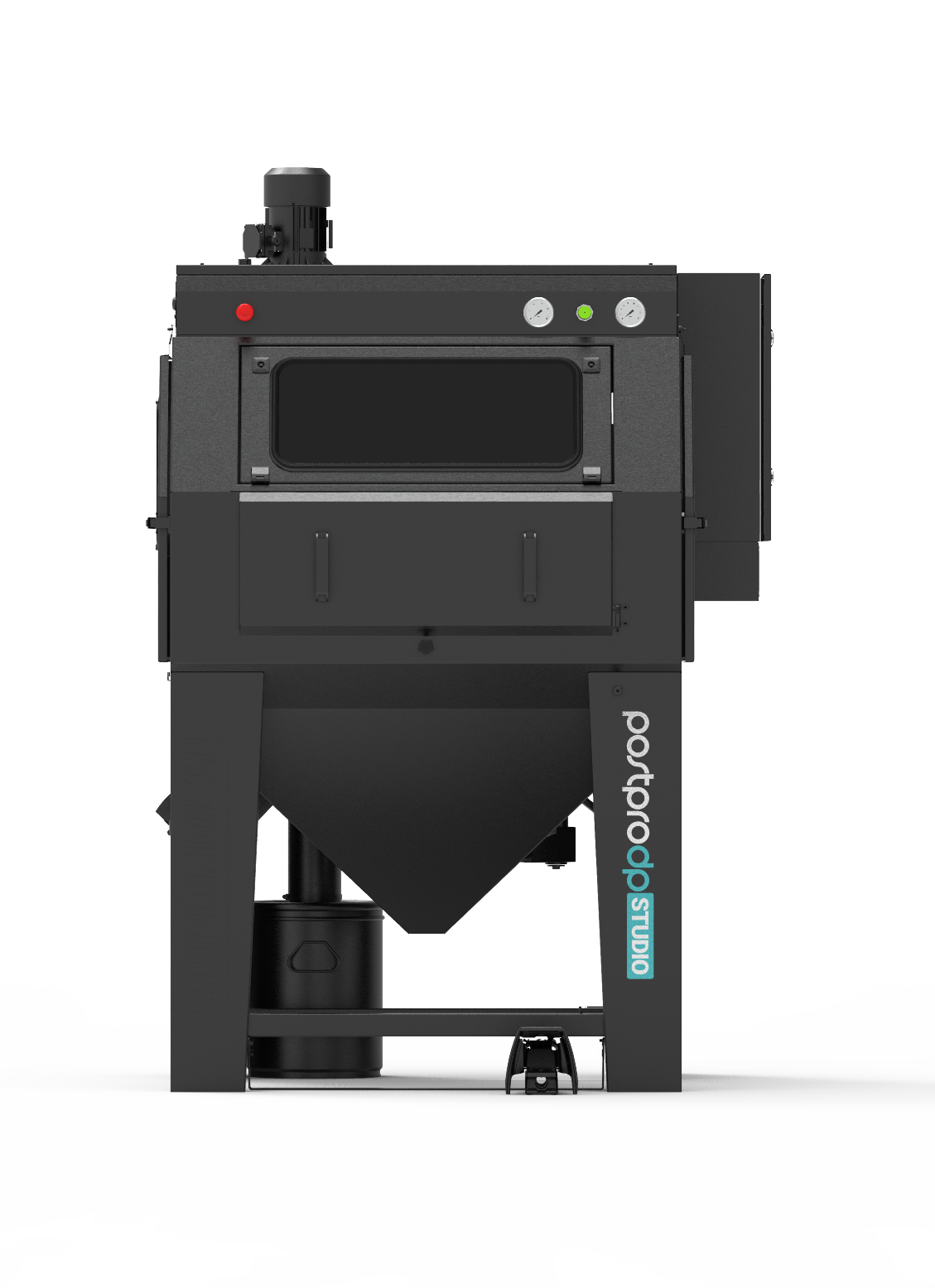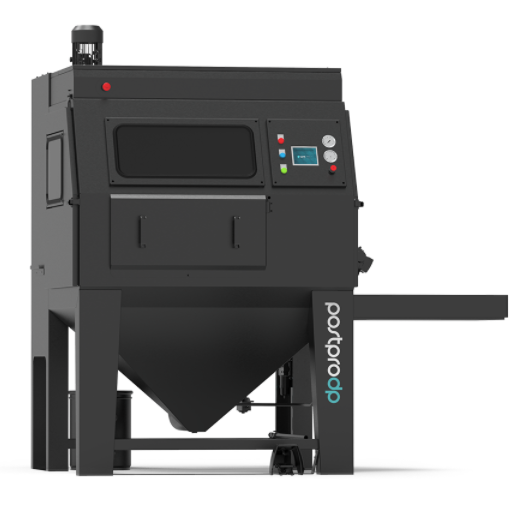 POSTPRO DP
PostPro DP is our affordable cleaning and shot blasting system. It has everything needed to start with your automated post-processing workflow.
Robust
PostPro DP won't let you down. The machine is very robust and is built to last. You will be up and running in the blink of an eye and maximizing output for years to come.
Ideal size
PostPro DP is operator-friendly. With the operating panel and basket at an ergonomic height, the user can comfortably load the machine and adjust parameters.
Affordable
We believe that everybody should have access to automated cleaning. Simple.
POSTPRO DP PRO
PostPro DP PRO is the solution for cleaning or shot blasting parts hour after hour, eliminating time and cost-consuming interventions in your post-processing chain. It is ergonomically designed and equipped with features to increase your throughput.
Cleaning millions of parts
The generously sized basket, allows for optimization of the blasting angle, cleaning parts fast, while also allowing to easily switch between batches. Once you have found the ideal recipe for blasting your parts, you can store the settings, and reuse them again and again.
Large parts, small parts
PostPro DP PRO has a dedicated manual blasting area that allows fast blasting of large parts without changing anything in your automated blasting area. Again, nothing should stop you from successfully cleaning your parts.
User-friendly
PostPro DP PRO is designed with the operator in mind. It allows for a safe, sustainable and efficient user experience. It will prepare you for the next step in the post-processing chain.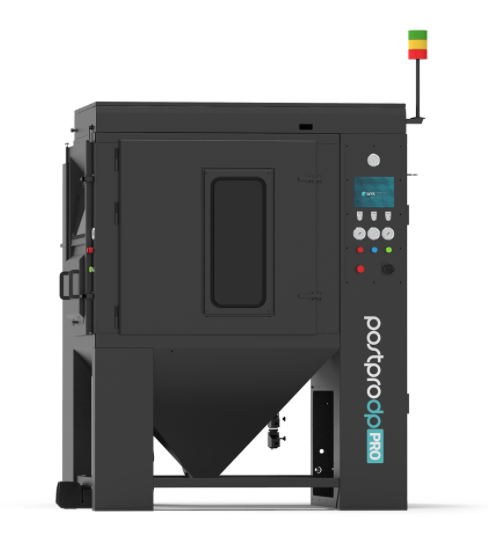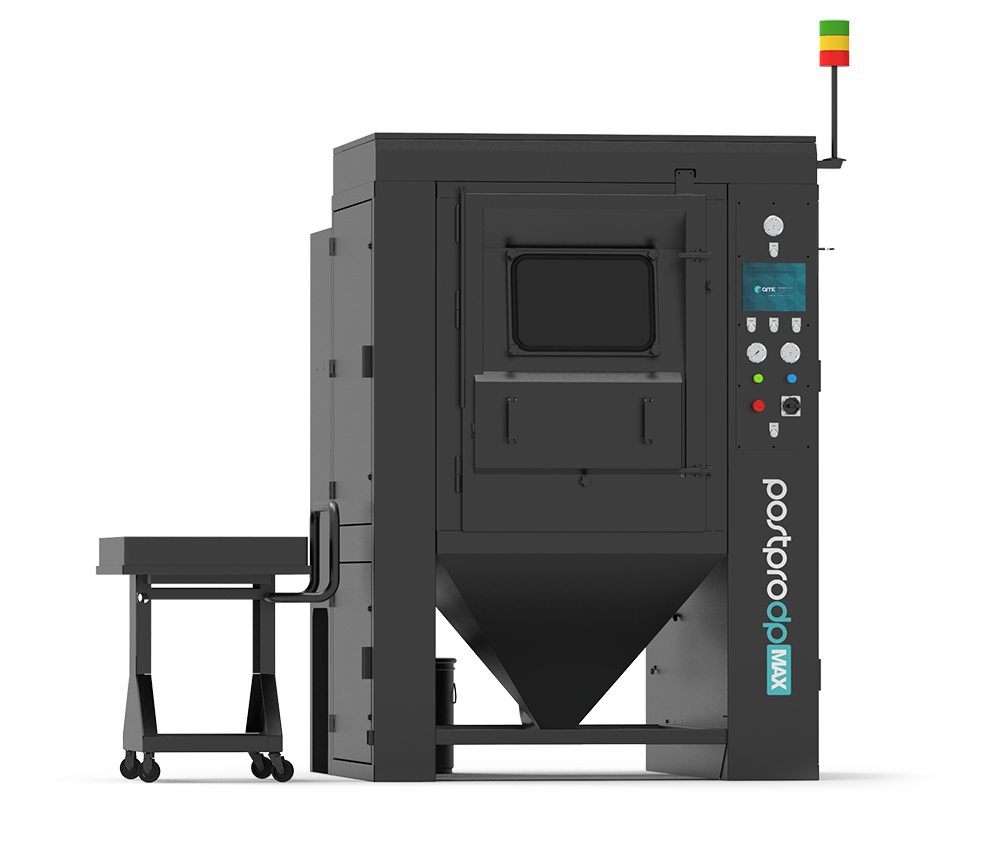 POSTPRO DP MAX
PostPro DP MAX is a fully automated 2-in-1 depowdering and shot blasting system designed for maximum throughput.
Continuous Tumble Belt
Powered by continuous tumble belt technology for maximum throughput and process flexibility, the PostPro DP Max has a 63 liter processing volume and has been designed for use in large component and/or large batch production runs.
Efficient User Experience
The system is front-loading at an ergonomic working height with reversible belt controls enabling automatic loading and unloading of parts to and from the transport container.
Digitally connected
Equipped with a Siemens S7-1200 PLC, the PostProDP Max can be connected with external Manufacturing Execution Systems and is able to communicate and integrate with other EMS in a production workflow.
SHOT BLASTING
PostPro depowdering machines can additionally be used for shot blasting. Recipes can be adjusted to suit the specific blast media and parts.
To determine which abrasive is most suitable for your process, AMT can perform tests and advice free of charge.
SUITABLE FOR ALL COMMON ABRASIVES
The cabinets are 3D printer material agonistic and work with all powder-based printer platforms including HP Multi Jet Fusion, EOS, and 3D Systems, as well as a range of thermoplastic polymers such as polyamides and elastomeric materials.
The system can be run with multiple media, such as corundum, glass beads, ceramics, nutshells, plastics, and fine grain sizes of stainless steel and steel. Taking 10 minutes to remove all the powder without damaging any of the parts.