Material handling on autopilot

Easy front-loading for 6 spools

Stored at 40% relative humidity

Automatic material switching

Compatible with 190+ filaments
All the uptime in the world
Material Station
Designed for ultra-low maintenance and tested to be left unattended, the Material Station allows the UltiMaker S7 to print longer – day or night. Loading material into the Material Station takes seconds – not minutes. Simply open the door, drop the spool into a bay, and guide it to extruder 1 or 2. During a print, any spool that is not being used can be switched out.
3D print with more materials. More easily
Each of the Material Station's material bays have NFC readers and reinforced prefeeders for integration with UltiMaker Cura and Digital Factory. Every spool is kept at 40% relative humidity, making it easy to realize more 3D printing applications with almost any combination of polymers and abrasive composites.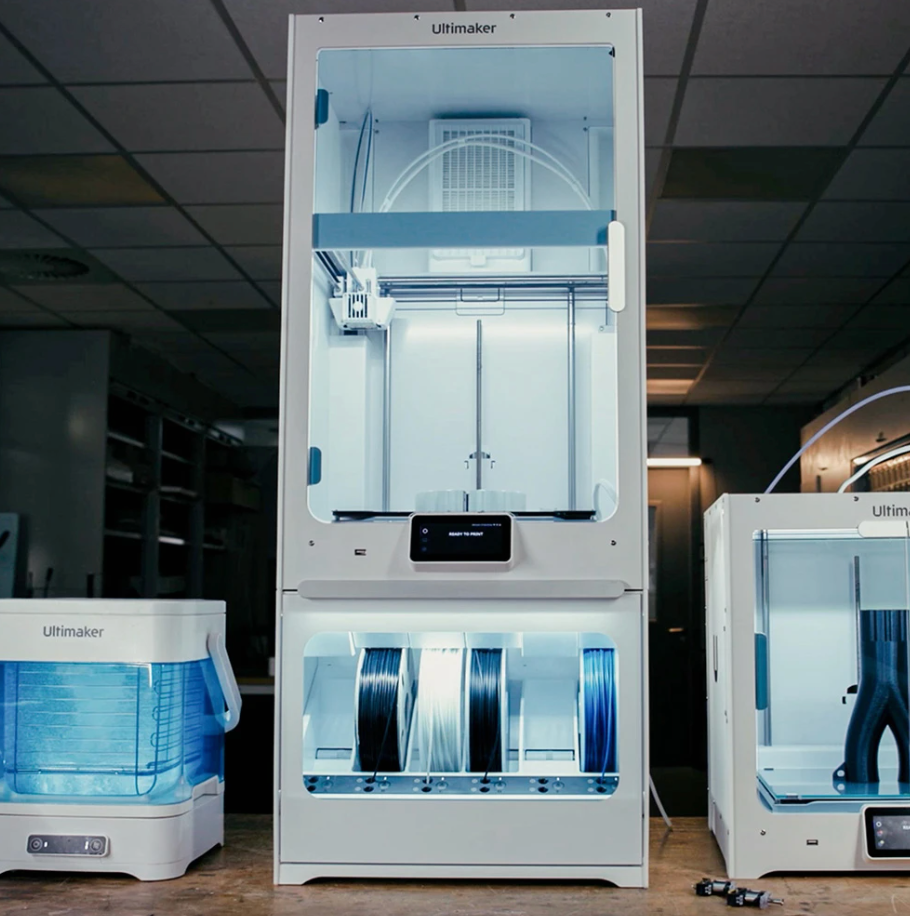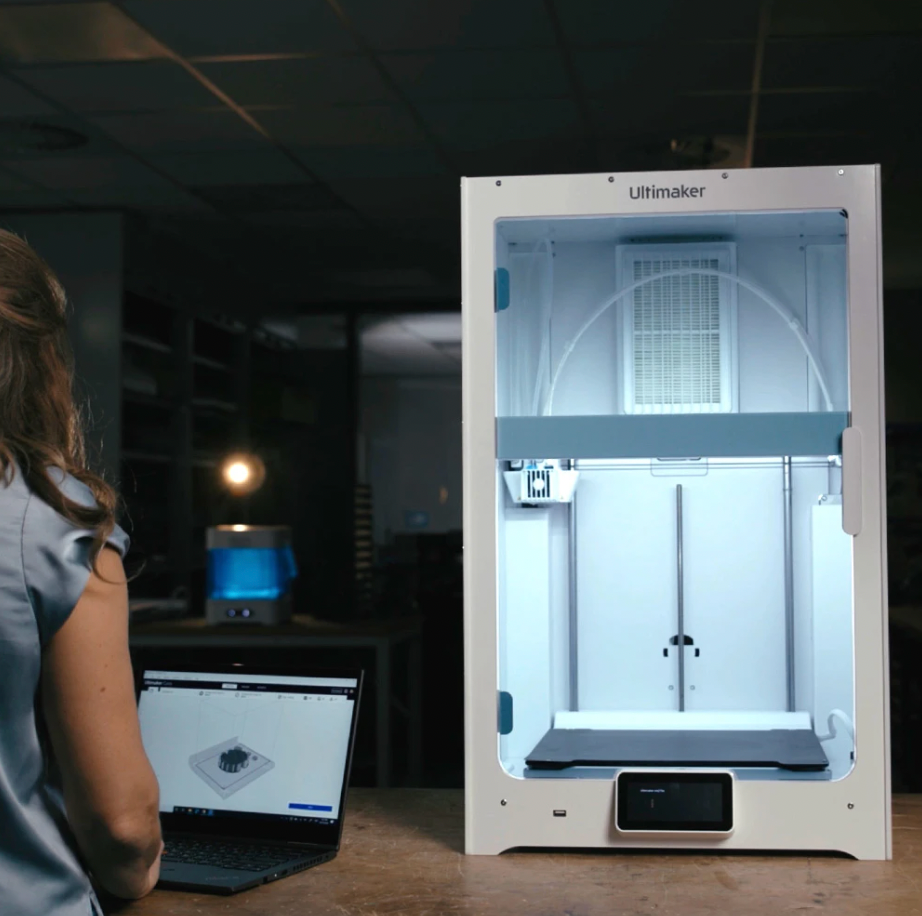 Plus every feature of the UltiMaker S7
Packed with our latest technology, the UltiMaker S7 takes print success to the next level. An integrated Air Manager and single door increase build chamber temperature stability. A flexible build plate reduces the need for glue and dramatically boosts productivity. And inductive probing makes it a lot harder not to 3D print a perfect first layer.
Transform Your Business
With the UltiMaker ecosystem
The UltiMaker S7 Pro Bundle gives you access to the entire Ultimaker ecosystem, including:
• UltiMaker Essentials (unending enterprise software subscription)
• UltiMaker Cura (full settings and monitoring compatibility)
• UltiMaker Digital Factory (remote printing and management)
• UltiMaker 3D Printing Academy (e-learning modules)
• A global network of service partners (setup and training)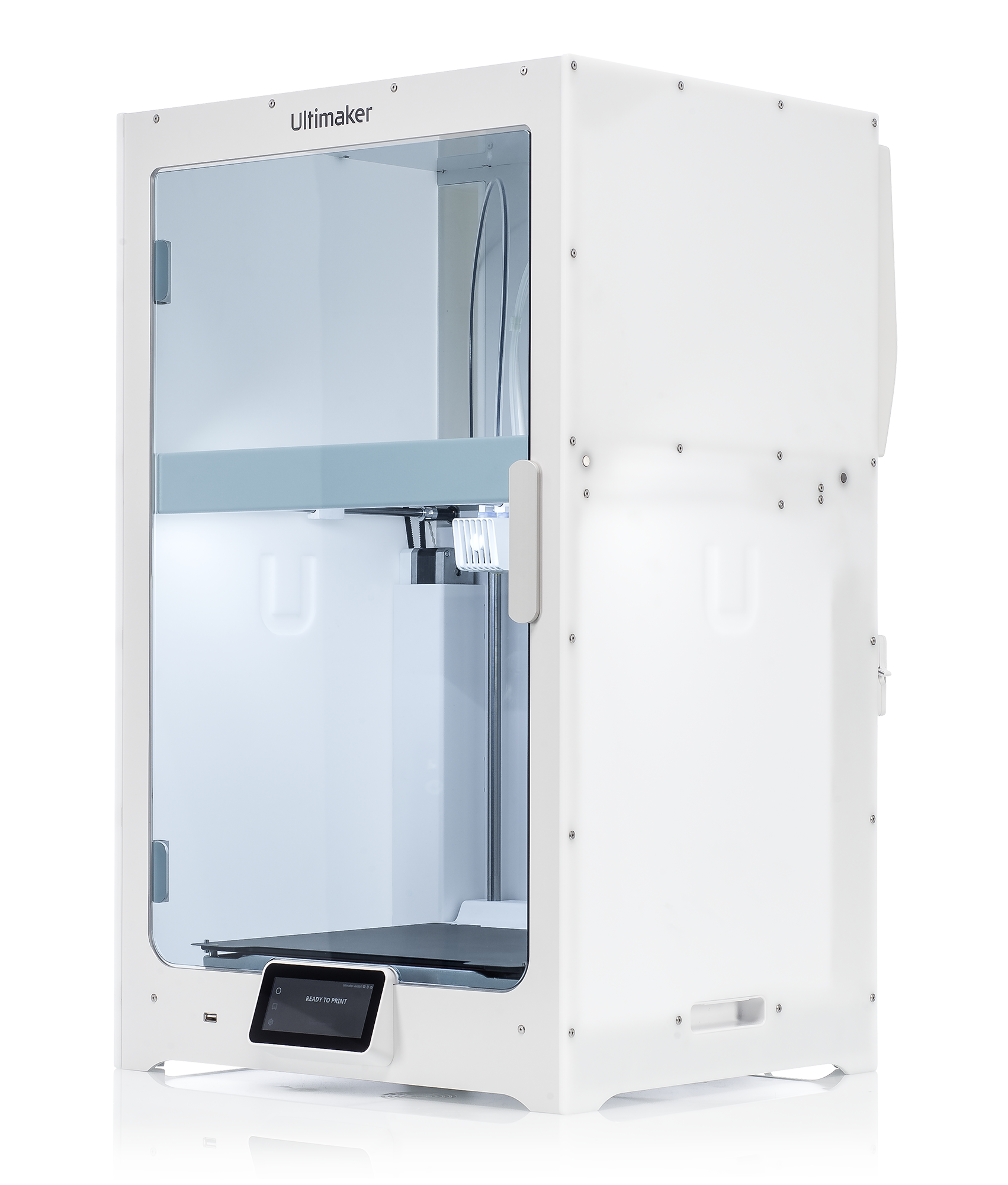 Packed With the Latest Technology

Print with 280+ materials
Unlock limitless potential 3D printing applications. These material profiles have been tested for thousands of hours by their manufacturers and users in the field.

Cura integration
Access the UltiMaker Cura features that speed up your workflow and increase print success – like intent profiles, easy remote printing, and more.
Backwards file compatibility
If you own an UltiMaker S5, your entire digital library of S5 print files will work flawlessly on the S7 – with no reslicing needed.

Anti-flood sensor
The redesigned print head detects potential flooding earlier. It also includes stronger magnets to ensure the print core door stays closed.

1080p camera
Mounted higher to give a better view of the first layers when remote monitoring. Monitor your print in high resolution remotely via UltiMaker Digital Factory.

Future-proof investment
The UltiMaker S7 will get better with age. New 3D printing workflow improvements are already planned via regular software and firmware updates for years to come.