Welcome to the Cimquest Blog!
Check here often to find Cimquest, Mastercam and 3D Printing happenings, product offerings and update info along with general Industry trends and breaking news.
Rze Pulley Maximizes Efficiency and Performance
FRC Team 1257 had a new competition, or "game," to play in this year called FIRST Power Up, which entailed building robots that placed boxes on scales in competitive events vs. other FRC teams.
The team designed and a printed functional pulley with an integrated sprocket. The pulley/sprocket part was printed in one piece on a Rize™ One 3D printer to reduce the number of parts and minimize part assembly required. The part is operated with a cable. The chain turns the sprocket that is built into the drum of the pulley. Students wind and unwind the assembly to lift and lower the robot's elevator that holds the boxes.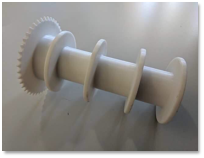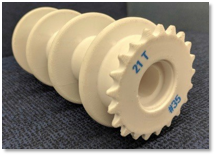 "We chose the Rize One 3D printer to print the part due to Rize's isotropic part strength and ink marking capability," said Jackie Gerstein, a technology teacher at UCMHS. "Labeling was printed directly onto the end of the sprocket part […]