Automated, affordable and calibrated for high production shop floor inspection.
CMM Master™, based on the Renishaw Equator™ platform, increases shop floor productivity, reduces scrap and replaces multiple single-use fixture gages at a fraction of the cost of traditional CMM systems. Portability, compact footprint, single phase power and no compressed air requirement makes this system ideal for flexible shop floor inspection and automated production cells.
Verisurf increases the accuracy of the Renishaw Equator™ with Cubic Volumetric Mapping. The unique software technology utilizes a 24 parameter calculation to volumetrically error map the 3D measurement volume and creates a compensation table with tri-cubic interpolation that makes the Verisurf error-corrected Equator significantly more accurate. Every CMM Master comes with calibration certificate and because the accuracy is improved through software, all Equator warranties remain intact.
CMM Master™ can be used as a software-driven gaging comparator by measuring a 'known to be good master reference part' then comparing subsequent production parts to the master. This further reduces costs and increases inspection flexibility by replacing hundreds of single use hard gages.
Volume accuracy (with Verisurf CVM) +/-0.0127 mm (.0005 in)
Comparison uncertainty +/-0.002 mm (.000079 in)
Maximum scanning speed 100 mm/s (3.937 in/s)
Maximum movement speed 500 mm/s (19.685)
Scanning rate 1000 points/s
Scale resolution +/-0.0002 mm (.0000079 in)
Fixturing requirement +/- 1 mm (.039 in)
Machine air supply No air required
Operating temperature +10 to +40 °C (+50 to +104 °F)
Storage temperature -25 to +70 °C (-13 to +158 °F)
Relative operating humidity Maximum 80% RH at 40 °C (104 °F), non-condensing
Universal power supply 100-240 VAC +/-10%, 50/60 Hz
Maximum power consumption 190 W
Typical power consumption 80 – 100 W
Probe type Renishaw 3-axis SP25 analog scanning
Fixture plate 305 mm x 305 mm (12 in x 12 in) aluminum
Maximum work piece weight 25 kg (55 lb)
System Standard Extended
Working volume XxYxZ 300mm x 300mm x 150 mm
(11.81in x 11.81in x 5.90in) 300mm x 300mm x 150 mm
(11.81in x 11.81in x 5.90in)
Height from base 55mm (2.16in) 205 mm (8.07in)
Machine weight 25 kg (55.11 lb) 27 kg (59.52 lb)
Dimensions WxDxH 570mm x 500mm x 700mm
(22.44in x 19.68in x 27.56in) 570mm x 500mm x 850mm
(22.44in x 19.68in x 33.46in)
6 position auto change probe rack
Choice of M8, M6 or ¼ – 20 fixture plates
MCUlite-2 Joystick
SP25 3-axis scanning probe
One year warranty
Verisurf Coordinate Metrology Software
NIST Tested
PTB Certification
Basic, Intermediate and Advanced probe kits
Enclosure accessories
Fixture plates and kits
One year extended warranty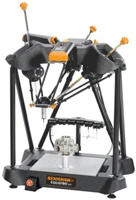 Complete the form below, and we will get back to you as soon as possible. If you need immediate assistance, please call 866-277-8778.