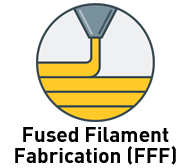 Easy-to-use 3D printing starts here
The new Ultimaker S3 delivers high-quality, composite-ready performance – all efficiently from your desktop. Packed with our latest technology, it is as easy to use as it is powerful, offering the most cost-effective way for disruptive businesses to adopt in-house 3D printing.
The Ultimaker S3 is a complete production system you can depend on in the office or studio. With advanced features to ensure a reliable printing experience, it's still simple to use thanks to its award-winning touch interface and seamless software integration.
Dual extrusion with a build volume of 230 x 190 x 200 mm (9 x 7.4 x 7.9 inches)
Down to 20 micron (0.001 inch) layer resolution
Open filament system, compatible with glass and carbon fiber composites
Dual filament flow sensors notify you if material runs out
4.7-inch touchscreen interface – Winner of iF Design Award 2019