Expert Metallurgy Built In
Developed by a team of world-leading materials scientists and 3D printing experts, the Studio System fabrication process is designed to take the guesswork out of achieving parts with good metallurgical properties.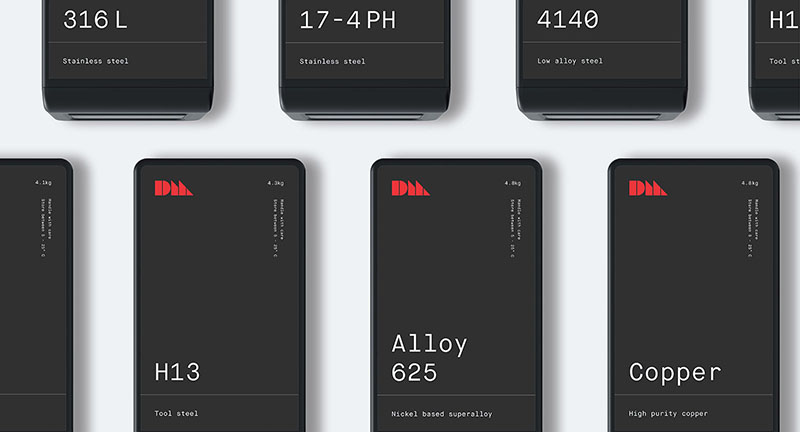 MIM materials, in-house and on-demand.
Similar to metal injection molding (MIM), the Studio System leverages bulk sintering to achieve parts with high densities and reliable performance. Everything from the particle distribution size within each rod to the design of the cartridges and extruder mechanisms supports a faster, easier, and safer workflow for printing high-quality metal parts in-house and on-demand.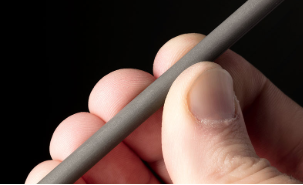 Safe-to-handle bound metal rods
Leveraging well-studied metal powders from the metal injection molding (MIM) industry, our media is formulated into bound rods—metal powder mixed with wax and polymer binder. Compared to filament media, rods have a higher ratio of metal to binder—resulting in less shrinkage and greater stability during sintering.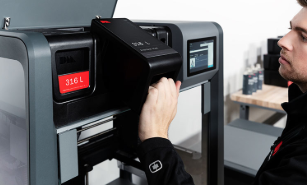 Hot-swappable media cartridges
Push-to-release media cartridges can be replaced mid-cycle without disrupting the current print. This allows users to use every gram of material without needing to pause a print to change spools or dispose of partially used material—Ultimately leading to cost savings and a more efficient workflow.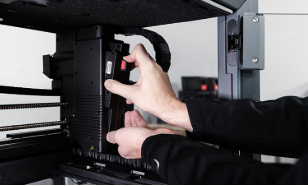 Quick material changes
Designed to support a range of printable materials, the swappable cartridges, quick-release printheads and nozzle brushes eliminate cross-contamination, allowing you to go from one type of material to another in a matter of minutes—instead of hours or even days like with other systems.
NEW! Ti64

An alloy of titanium, aluminum and vanadium, the material properties of Ti64 – particularly its high strength-to-weight ratio and corrosion resistance – make it an ideal material for a wide variety of high-performance applications.

Application Examples:

Specialty automotive components, including connecting rods and gearboxes for racing
Prototyping of medical devices, including tweezers, forceps, clamps, suture instruments and more
Consumer goods, including sporting goods and jewelry

NEW! Copper

Characterized by its electrical and thermal conductivity and ductility, Copper is ideal for electrical equipment, plumbing, and heat transfer.

Common applications:

Consumer and industrial electronics
Heat exchangers
Antennas
Inductors

17-4 PH

17-4 PH is a precipitation hardening steel used in a wide range of industrial applications including those with mildly corrosive environments and high-strength requirements.

Manufacturing machinery
Chemical processing
Food processing
Pump components
Valving
Fasteners
Jigs and fixtures

316L Stainless Steel

Characterized by its corrosion resistance and performance at both high and low temperatures, 316L is a fully austenitic stainless steel ideal for harsh environments.

Chemical and petrochemical processing
Food processing
Laboratory equipment
Medical devices
Marine applications
Jewelry
Power generation
Petroleum refining
Water treatment
Pulp and paper manufacturing

H13 tool steel

Characterized by its hardness and abrasion resistance, H13 is a hot work tool steel with exceptional hot hardness, resistance to thermal fatigue cracking, and stability in heat treatment — making it an ideal metal for both hot work and cold work tooling applications.

Extrusion dies
Injection molds
Hot forging dies
Die casting cores, inserts and cavities

Alloy 625

Alloy 625 is a nickel-based superalloy characterized by its hardness and abrasion resistance as well as its performance at high temperatures, making it suitable for the most extreme environments.

Jet engines
Navy marine applications
Submarines
Aerospace
Extreme environment applications
Nuclear reactors
Substitute for tool steel
Rapid temperature change
Heat treat applications

4140

One of the most versatile steels, 4140 is characterized by its toughness, high fatigue strength, and abrasion and impact resistance, making it a great all-purpose steel for industrial applications.

Jigs and fixtures
Automotive
Bolts/Nuts
Gears
Steel couplings
PA6 Nylon

Low cost
High mechanical strength
Continuous Use Temperature ~ 100°C

PEEK

Excellent mechanical, thermal, and chemical resistance
Excellent resistance to surface abrasion
Flame retardant
Continuous Use Temperature between 200-250°C

PEKK

Excellent mechanical, thermal, and chemical resistance
Excellent resistance to surface abrasion
Flame retardant
High compression strength
ESD-Safe
Continuous use temperature above 250°C
17-4 Stainless Steel

17-4 PH is a martensitic precipitation – hardened stainless steel. It's known for its corrosion resistance and high levels of strength and hardness, especially when heat treated. 17-4 can be heat treated to a variety of hardness and toughness levels, allowing users to customize post-sintering properties of the alloy to suit a wide variety of applications, including:

Manufacturing machinery
Chemical processing
Food processing
Pump components
Valving
Fasteners
Jigs and fixtures