POSTPRO CHEMICAL VAPOR SMOOTHING
Fully automated surface finishing technology that smooths and seals the surface of 3D printed polymer parts. Achieving a surface finish with an injection molded look and feel.
The process is non-line-of-sight and therefore can smooth complex geometries and internal cavities of thermoplastic parts without degrading the mechanical properties. Combined with UL & CE certification, the patented PostPro vapor smoothing technology is recommended by the world-leading additive manufacturing players.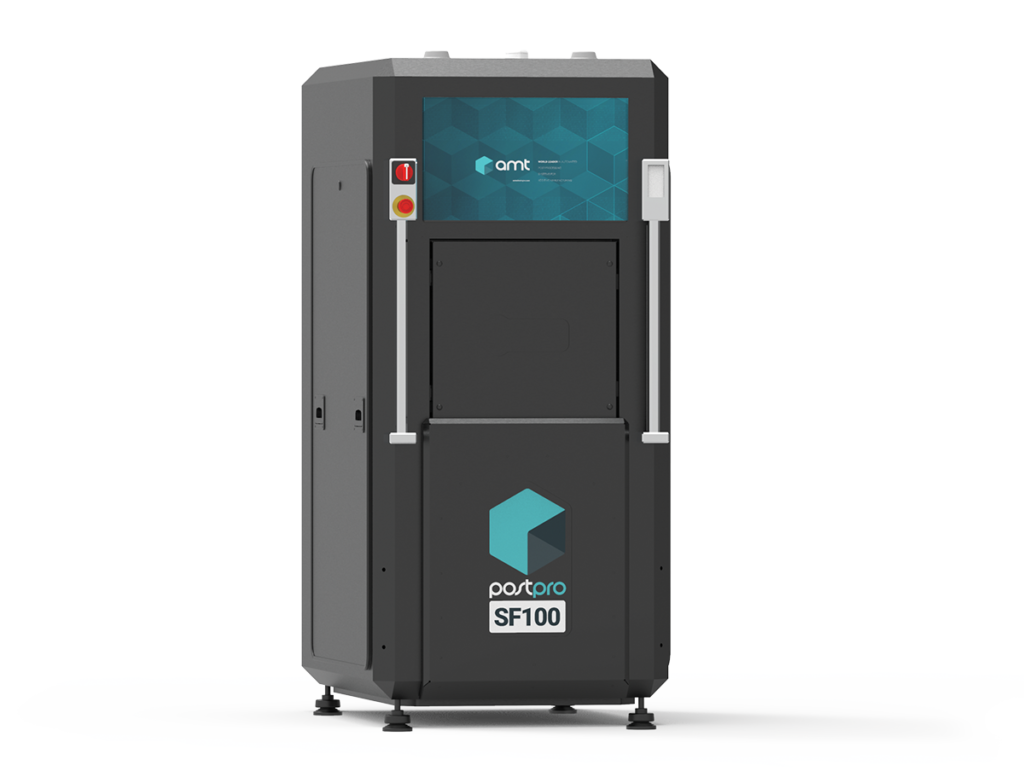 POSTPRO SF100
The PostPro SF100 is AMT's next-generation chemical vapor smoothing technology that sets new benchmark gold standards for the AM industry.
Designed for high volume production
Featuring Industry 4.0 automation and a processing chamber of 100 liters, the PostPro SF100 was designed to increase efficiency in terms of potential throughput, thus reducing cost-per-part.
Small Footprint
Its compact and ergonomic form allows easier operation while taking up less valuable operating floor space.
Taking your parts to the next level
PostPro SF100 takes your parts performance to the next level. By enhancing your surface, not only does it create beautifully looking parts, but it also improves the mechanical performance and seals the surface enabling easy cleaning, dyeing, and coating, while keeping dimensional accuracy without marks from fixtures.
POSTPRO SF50
PostPro SF50 is a patented chemical vapor smoothing solution for post-processing thermoplastic 3D printed parts. Formerly known as PostPro3D MINI, this new generation technology includes advanced features providing a more efficient user and production experience.
Designed for prototyping and low volumes
With a 50 liter chamber, PostPro SF50 was developed for quick and efficient post-processing of prototypes and a series of smaller part sizes. Ideal for research and development, as well as design and production activities.
Plug-and-play
Industry 4.0 automation with the capability to seamlessly connect with external MES and ERP systems.