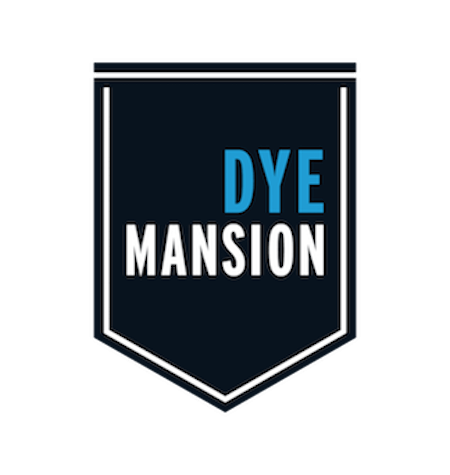 Turning 3D-Printed Raw Parts into High-Value Products
Easy and Efficient Part Cleaning
GLOBAL LEADER IN ADDITIVE MANUFACTURING FINISHING SYSTEMS
DyeMansion is a Munich, Germany-based company offering finishing systems that turn 3D-printed raw parts into high-value products. With the ability to deliver precision coloring and high-quality finishes for even the most exact specifications, DyeMansion has quickly established itself as the global leader in additive manufacturing finishing systems for 3D-printed polymer parts. DyeMansion as a partner is already trusted by more than six hundred customers, including leading global manufacturers in diverse industries, such as eyewear, automotive, retail, medical and sports equipment.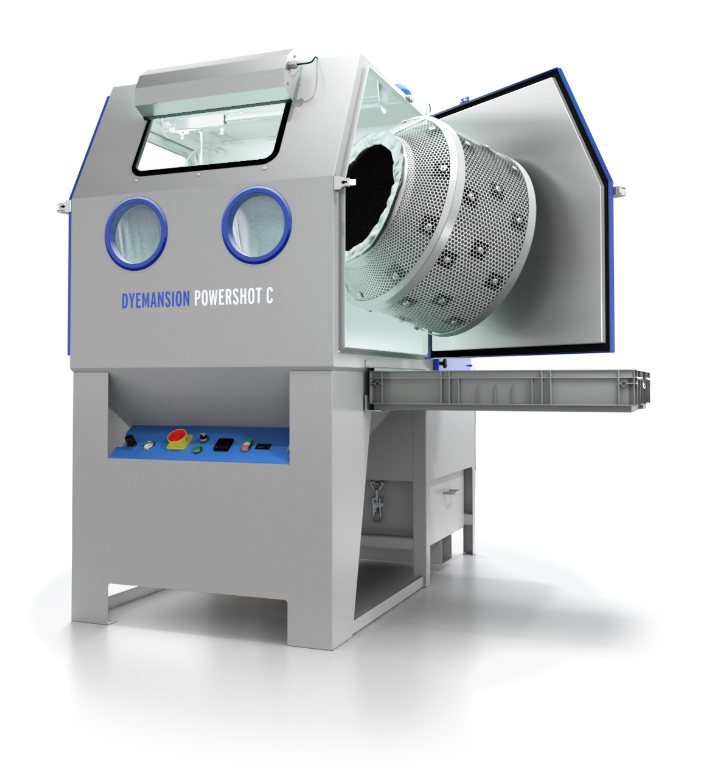 Using the DyeMansion Powershot C, up to 75% of an EOS P396 or full HP Jet Fusion 4200/5200 job can be cleaned in only ten minutes. Time needed for cleaning and personnel costs can be reduced in a significant way and therefore improve the efficiency. A configurable timer allows a constant batch processing and parts can be processed much faster.
Compared to manual blasting cabins the DyeMansion Powershot C is equipped with a rotating basket and is manufactured from stainless steel. Two simultaneously working blasting nozzles, that are positioned perpendicular to the rotating basket and the contained parts, remove the powder in an efficient way. A fixed distance between the parts and the blasting nozzles ensures reproducible results without damaging the parts during the process.
By investing in automated part cleaning with the DyeMansion Powershot C, up to four manual blasting systems can be replaced. In addition to the resulting lower operating costs, investment costs are saved to the extent that the investment and maintenance costs only affect one system.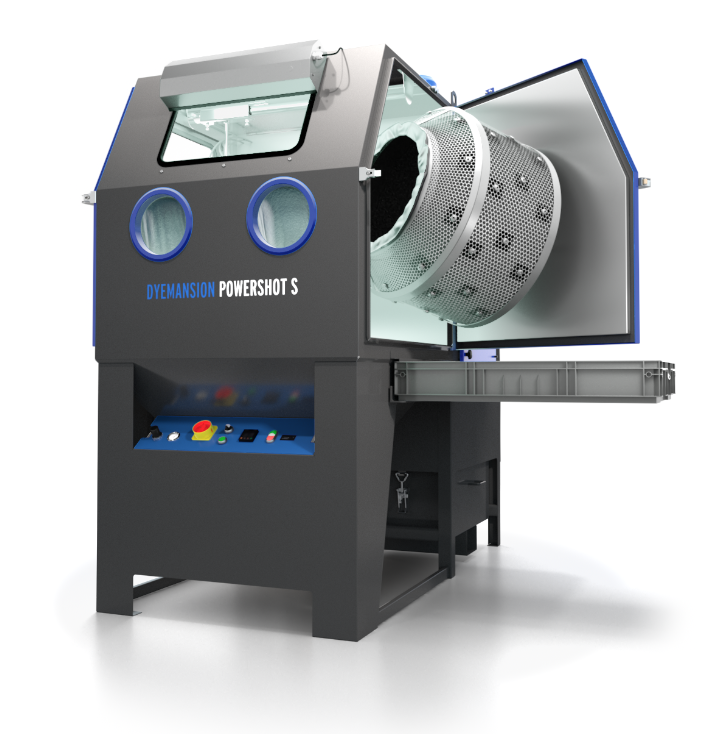 The automated mechanical PolyShot Surfacing (PSS) is the most efficient process on the market to achieve the best end-use part finish. It does not remove any material and works perfectly for hard plastics like PA12 or PA11 across all geometries. With a cycle time of only 10 minutes and a capacity of a mid sized build job per run, the Powershot S works very cost-effectively. Using the automated PolyShot Surfacing, instead of time-consuming abrasive methods like tumbling, increases your productivity and part quality significantly.
PSS delivers a unique matt-glossy look and pleasant haptics for the majority of 3D-printed end-use applications. Launched in 2016, it set a totally new quality standard and is well-established in various industries already: From perfect fit eyewear to personalized car interiors. Especially in the consumer sector and for many technical applications the improved scratch resistance and soft haptics lead to higher wearing comfort and an extended product life cycle.
The PolyShot Surfacing is the main basis for maximizing coloring results. Shooting beads accelerated with compressed air equalizes the peaks and lows of the surface, achieving a more homogenous part quality. The pores are closed during the process and the result is a significantly improved, uniform surface. This is particularly important for further processing steps, such as chemical dyeing techniques in a water bath. The dyes are taken up much more homogenous from the base material.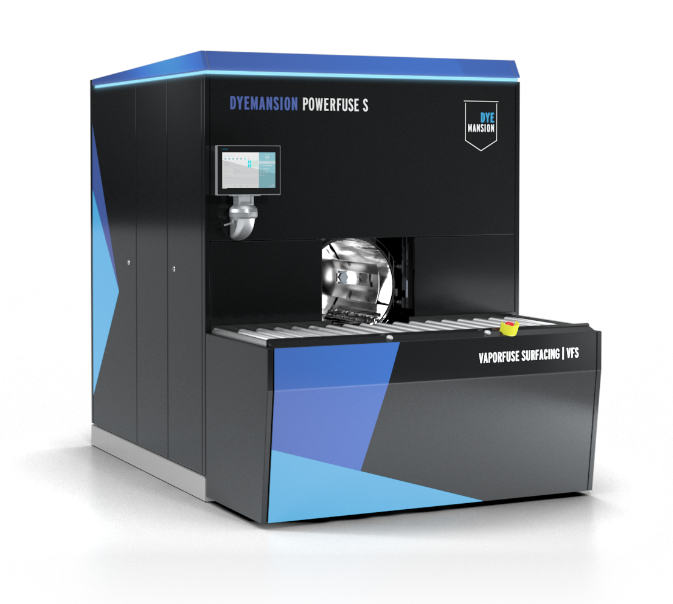 The VaporFuse Eco Fluid solvent is approved for the processing of plastics with food contact according to regulation (EU) 10/2011. The solvent is circulated continuously in a closed loop and automatically recovered by the system. This enables a sustainable contact-free process without chemical waste. Operating the Powerfuse S does not require protective clothing against chemical hazards.
VaporFuse Surfacing (VFS) delivers sealed and washable parts with injection molding like surfaces. The surface roughness is reduced to a minimum. The entire process chamber is flooded with vapor while undergoing vacuum. This ensures a reproducible processing of complex geometries and internal surfaces. VFS works for all common plastics and particularly for flexible polymers such as TPU, for which mechanical techniques are not suitable.
The Powerfuse S is Industry 4.0 ready. The system offers fully automatic loading, connectivity and batch tracking features. Validated and specially developed programs for all common materials are available and ready to use. In addition, all process parameters can be adapted individually for other materials. This ensures flexibility and a seamless integration with existing production processes such as the DyeMansion Print-to-Product workflow.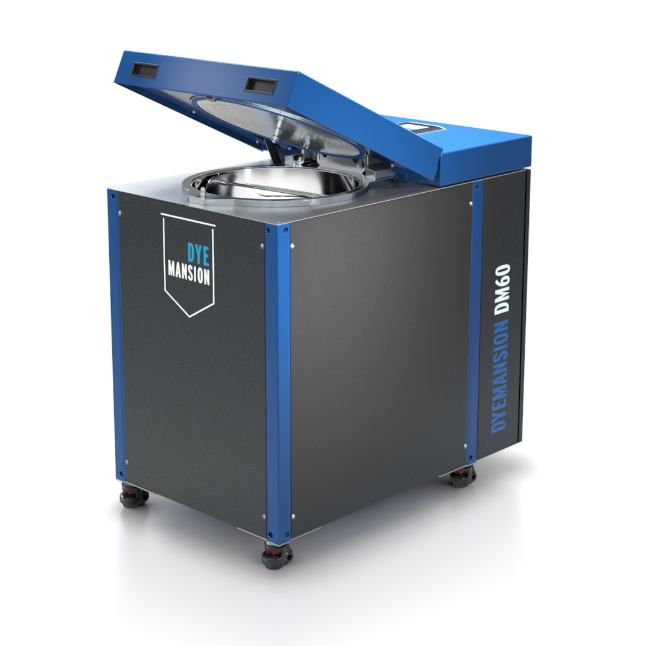 The innovative DeepDye Coloring (DDC) technology offers unlimited color choices. As a DM60 user you benefit from the largest color database. In addition to over 170 RAL and standardized colors, which are ready-to-use without additional development costs and waiting times, the color matching also offers the possibility of creating individual tones for you – from corporate colors to seasonal trend colors and individual skin tones. The fully automatic cleaning program of the DM60 allows a flexible use and a fast color change.
For a long time, dyeing 3D-printed plastics was a manual, uncontrollable process. Dyemansion takes care of this process and offers a global supply of exact color recipes down to the microgram. This enables an industrial process that could not be easier for the user and can be reproduced any time. The power lies in our color cartridges, which we manufacture depending on base material, finish and desired color. Based on the volume of your parts, they deliver cartridges in four different sizes. These are equipped with an RFID chip that transfers all process parameters QM ready to the DM60.
The demands for 3D-printed products are constantly increasing. These ISO-certified colors make Dyemansion a trusted technology partner for biocompatible eyewear or medical orthoses as well as for light- and heat-resistant automotive interiors. With their extended ColorsX line, they are responding to industry-specific requirements and are always looking forward to new input for the further development of their DeepDye Coloring (DDC) technology.