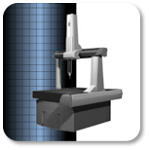 The Universal CMM (UCMM) is a software-only solution that enables seamless communication between Verisurf Automate and popular CMM Controllers. Simply click on the CAD features you want included in your inspection and UCMM does the rest!
You no longer need to tolerate outdated metrology software that came with the CMM. With UCMM you can run your motorized CMM using the common Verisurf programming platform. This means you do not need to maintain multiple software products for your CMM programming. The powerful Verisurf user interface may be used for all metrology programming. And don't forget, Verisurf runs inside of Mastercam, the most popular CAM programming software in the world.
Contact Cimquest
For more information on Cimquest Reverse Engineering, Scanning & Inspection Solutions
Call us at (866) 277-8778 or Contact Us Today.
Contact Cimquest