The XM300G Printer Series
The XM300G series is ideal for printing high quantities or large parts in high-performance applications where print speed is critical in multiple industries including aerospace, automotive, and general manufacturing.
The XM300G series is a highly flexible single-, dual-, or quad-laser system that introduces industrial speed and performance at an affordable price, allowing small-to-medium companies to benefit from metal laser powder-bed fusion technology. To increase print speeds, the XM300G provides simultaneous fusion over the entirety of the work area with the option of one, two or four independent lasers.
A large 300 x 300 x 350 mm build volume, upgradable to 300 x 300 x 450 mm, a selection of 400W or 700W fiber lasers, and an interchangeable build platform to reduce printing cycle time, makes the XM300G well-positioned to support a wide variety of additive manufacturing applications.
Shipment scheduled to begin 3Q2023.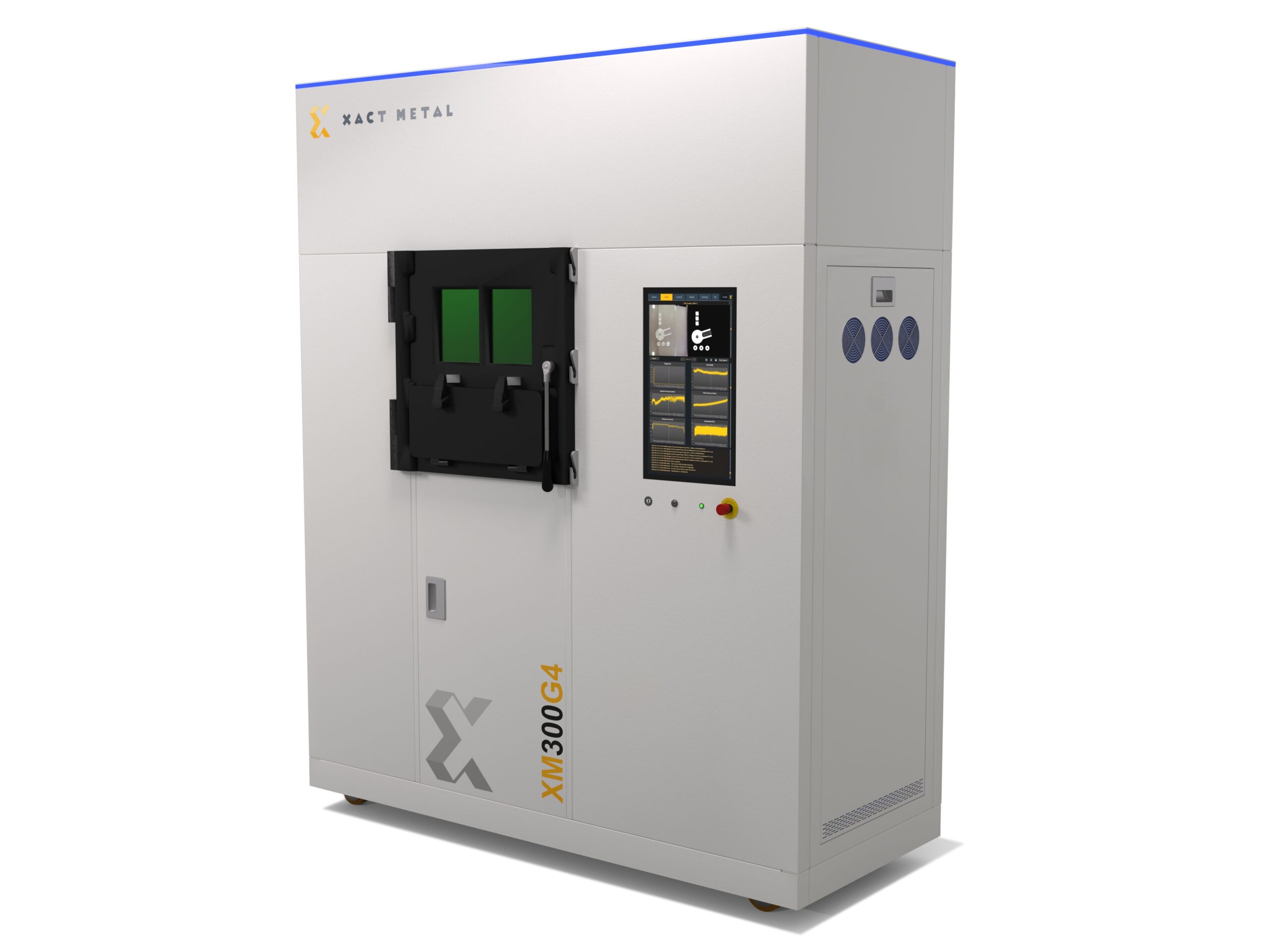 LARGE BUILD VOLUME
300 x 300 x 350 mm (11.8 in x 11.8 in x 13.8 in)
300 x 300 x 450 mm (11.8 in x 11.8 in x 17.7 in)*
*Extended feed option
LASER TYPE*
One, two, or four 400 watt Yb fiber lasers
*Class 1 Laser Product
JOGGING SPEED
21.26 m/sec
ADJUSTABLE SPOT SIZE
70-140 µm with live adjustable feature
GLOVEBOX
Available
USER INTERFACE
24″ intuitive user-friendly touch screen
LAYER THICKNESS
20 µm to 100 µm
ELECTRICAL
Three-phase power is required for all configurations
EXTERIOR DIMENSIONS
Approx. 2019 mm x 845 mm x 2390 mm – W x D x H
WEIGHT
Xm300G- ~726 kgs (~1,600 lbs)
XM300G2- ~816 kgs (~1,800 lbs)
Xm300G4-~907 kgs (~2,000 lbs)
POWDER OPTIONS
To learn more about Xact Metal powder options, please click here.