In our first installment of this post, we explained why firms looking to stay ahead of their competition must focus, more than ever before, on compressing their product development cycles. Firms today are under greater pressure from two directions – both from the increasing demands of consumers for product variety and by the accompanying trend toward shorter product lifetimes.
Compounding this challenge is that between 70% and 90%* of total project costs are determined during the early stages of the development process – in other words, during the design and prototyping stage.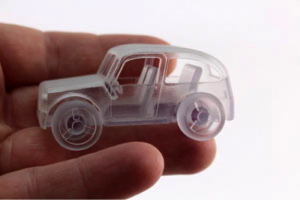 Filtering Professional RP Down to SMBs and Design Workgroups
As a result, it's vital that companies get their designs and prototypes right the first time – the earlier the better – before costs begin to spiral outwards and upwards into the more expensive stages of product development and deployment.
To ensure product prototyping is faster, more effective and cost-efficient, larger enterprises are already well into mature adoption of in-house professional 3D printing capabilities, a trend that is over 20 years old.
The challenge now is to provide the same professional levels of 3D printing and rapid prototyping capabilities to small- and medium-sized companies. They face the same or greater pressures as larger enterprises, but with less margin for error and fewer resources to manage expensive, complex systems.
Before embarking on a 3D printing investment, it's important to understand the difference between an "over-the-counter" 3D printer and a professional rapid prototyping solution. To do this, business decision makers should compare the "Overall Solution Effectiveness" of these two classes of systems. Here's how…
What is Overall Solution Effectiveness?
Overall Solution Effectiveness (also known as Overall Equipment Effectiveness) is a best-practice methodology from the manufacturing world; it was coined by Seiichi Nakajima in the 1960s.
At its simplest, Overall Solution Effectiveness determines how much of your manufacturing time is truly productive. For the design world, we can adopt similar criteria to determine how efficient and effective a rapid prototyping and 3D printing set-up is.
The ideal set-up in terms of Overall Solution Effectiveness means you're producing only good prototypes (quality), as fast as possible (workflow performance), with no stoppages (available run-time).
Available run-time – This is the 3D part or prototype production time minus changeovers, maintenance and unplanned stoppages.
Workflow performance – This is the ratio of actual produced 3D part quantity to the theoretical maximum workflow quantity, and it includes the efficiency of the entire design to prototyping process from CAD to final printed part.
Yield (Quality) – This is the ratio of good parts or prototypes to total parts produced. This is a measure of quality and repeatability.
Professional RP: A Result of Engineering and IP Investment
Once a company starts paying close attention to how their 3D printing performs according to these three parameters, then it should become quickly obvious how a professional rapid prototyping solution differs from consumer or entry-level 3D printers.
Crafting a Solution for the Needs of the Design Workgroup: Productivity, Quality and Usability
Stratasys' recently released F123 Series is a case in point. A new, complete rapid prototyping solution, it utilizes 43 existing Stratasys patents – and introduces an additional 15 new ones. Important to take away here is that patents are a direct indication of quality, productivity and reliability.
The Stratasys F123 3D Printer Series provides the engineering and ease-of-use enhancements that, perhaps more than ever, focus on the real prototyping dilemmas of SMBs and design workgroups:
Repeatable, engineering grade prototyping quality – but in a system that's easy enough for anyone in their team to operate.
Professional levels of efficiency and productivity – but in a system that is quiet and unobtrusive enough to run in the office workspace.
5 Ways the F123 Series Maximizes Run Time, Performance and Yield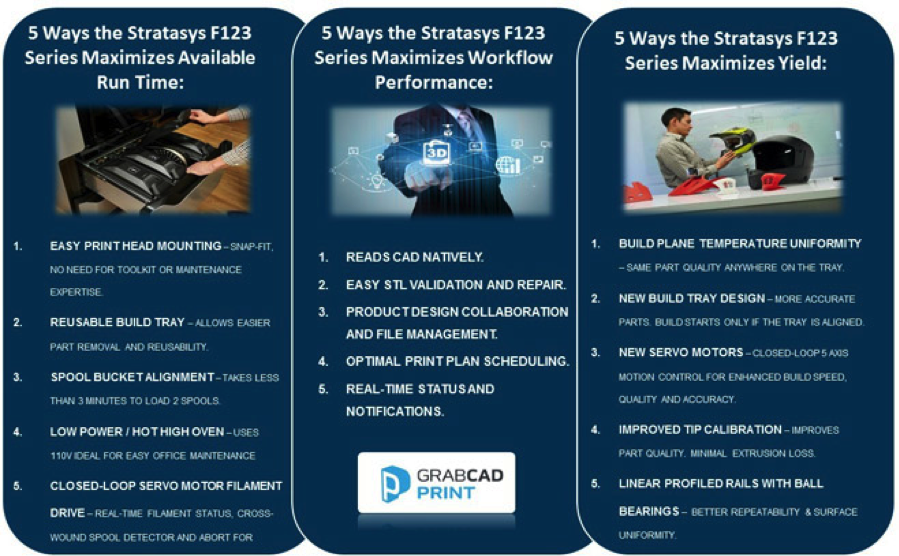 Time for a More Analytical Approach to Rapid Prototyping
Responding to the growing pressures to deliver more products to market, faster, smaller firms and design workgroups must begin to better understand the true impact of 3D printing on their overall product development cycle.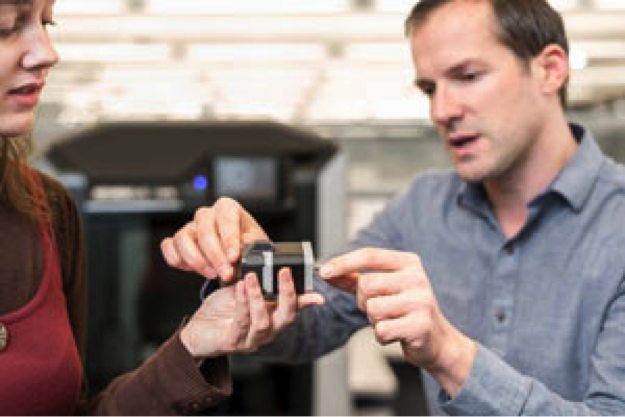 RP users should start by quantifying the Overall Solution Effectiveness of their 3D printing investments – using the three criteria outlined in this article.
Using these parameters should lead to a more clear-eyed approach to RP requirements gathering and, at the end of the day, result in a better purchase decision.
Choosing a professional RP solution engineered to maximize available run-time, workflow performance and yield quality will provide a cascade of advantages through the whole organization, including greater team agility, faster product roll-out and better quality end-products. There's not an organization out there than can afford to overlook these essentials if they want to keep their competitive advantage and ensure their market longevity.
For more information on the new Stratays F123 Series printers, please click the button below.
[button link="https://cimquest-inc.com/stratasys-f123-series-3d-printer-2/" color="default" size="" stretch="" type="" shape="" target="_self" title="" gradient_colors="|" gradient_hover_colors="|" accent_color="" accent_hover_color="" bevel_color="" border_width="1px" icon="" icon_divider="yes" icon_position="left" modal="" animation_type="0″ animation_direction="down" animation_speed="0.1″ animation_offset="" alignment="left" class="" id=""]More Info[/button]