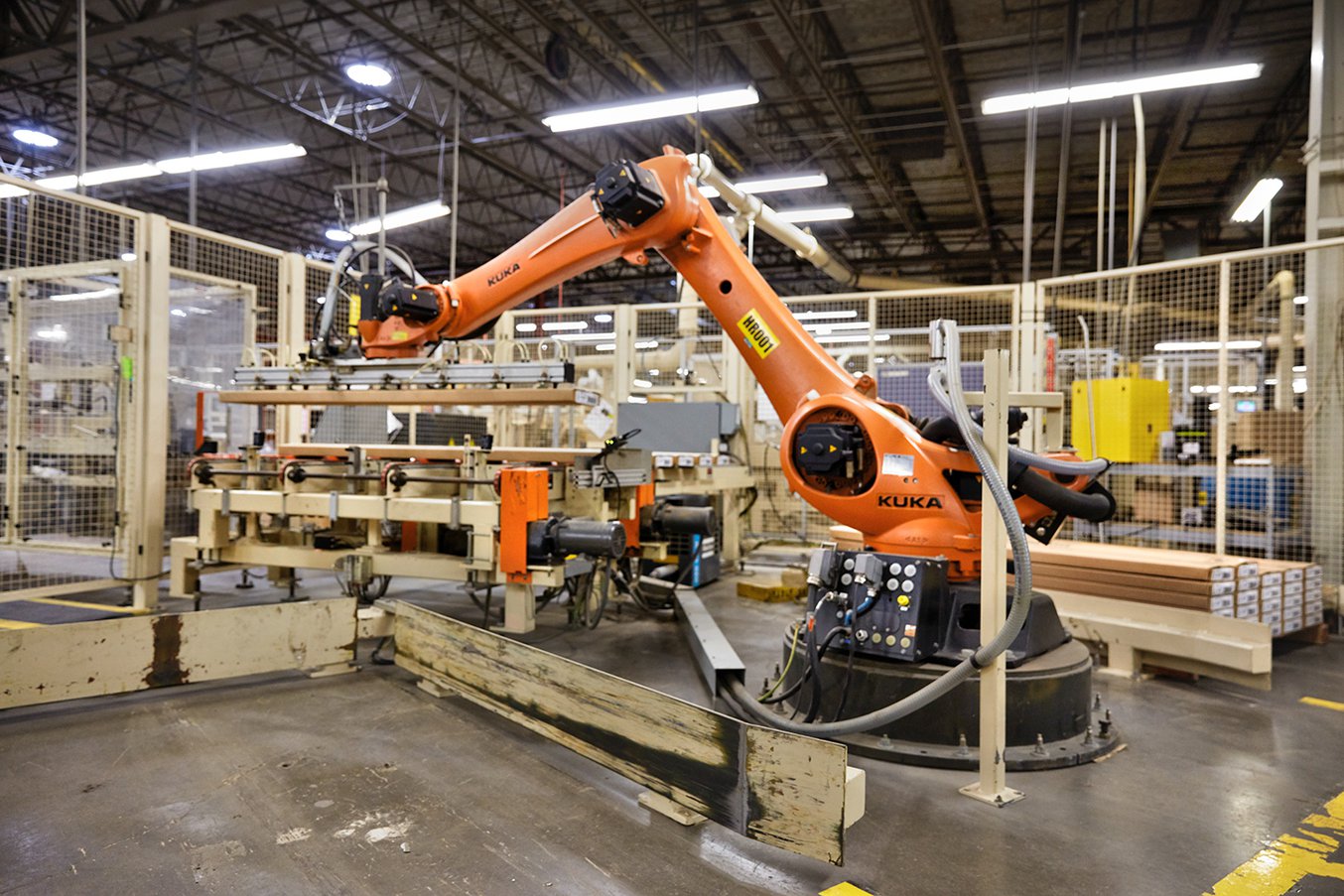 In the face of decades of shifting markets, endless new technologies, and unprecedented labor shortages, Ashley Furniture has only continued to grow. In 2005, they became the largest furniture manufacturer in the world, a title they still hold today.
The company followed the arch most American businesses of its era dreamed of. Its first manufacturing facility opened in Arcadia, Wisconsin in 1970 with 35 employees, since blossoming into a global company with 900+ stores around the world. Ashley's factories produce more than 300,000 pieces of furniture a week, amounting to about 26 million a year.
A careful look around Ashley's Arcadia facilities reveals the recipe for their success, and it is a recipe. Like most modern manufacturers you'll find a variety of robots, but the company hasn't found—and aren't looking for—silver-bullet solutions. Rather, they focus on a model of continuous improvement. It's the cumulation of these improvements, and a culture that encourages them, that's fueled their growth and unbroken grip on the #1 ranking.
3D printing, for example, has slowly trickled onto the factory floor, and gradually reorganized manufacturing processes from fabrication to assembly.
Watch the video below to learn how Ashley Furniture went from one idea to 700 3D printed parts in service across their factory floor.
A Culture of Continuous Improvement
Continuous improvement is a key ingredient in Ashley Furniture's manufacturing success. The ability to respond to change is the only constant when it comes to staying competitive in manufacturing, but it takes more than just one initiative or project to integrate new technologies and practices that impact business on a fundamental level, and more than just a top-down decree.
"If we don't have that culture of change, that's going to start to prohibit our growth. We have to be willing to identify what that change is going to be, and figure out how to best incorporate that into our processes and operations—and teach our employees why we need to make that change, how we can make it, and empower them to help us make it," said Vaughn Pieters, Ashley Furniture senior director of casegood operations, who has been with the company for just over 25 years.
3D printing is a clear example of Ashley Furniture's commitment to lean manufacturing processes and kaizen approach, with employee-driven incremental changes that have saved significant time and costs in getting products to market, and empowered staff to be more productive, and focus on more creative work.
To read the full article, please click the button below.