In previous Metrology Minutes, we have gone through Control X basic inspection processes and techniques but what about when we need to inspect more than one of the same parts or assemblies, utilizing the same inspection program (inspection plan)? That's where Batch Processing in Control X comes in very handy.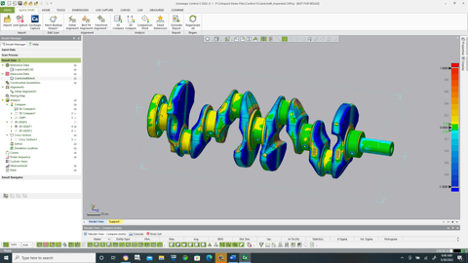 Completely unmanned, Control X can open successive files (scans or point clouds) in a folder or you can select from various files contained in several folders to inspect them all against the same nominal CAD model and inspection plan.
Batch Processing Menu

Use the Add Files or Add Folders tab to select the scans or point clouds, to be selected for inspection.
The Target Result allows you to select the specific Results file you wish to use if more than one exists in the Control X inspection program.
The Output option allows you to save the model, print the report as well as export the report. If Print or Export is selected, the file formats then become active for selection.
You may then select the Output Destination for the individual, serialized reports.
You may then select a file naming convention for the inspection files that get automatically generated by either using the MEAsured data as the filename or selecting a file prefix, to be added automatically to distinguish between inspection files.
Please contact Joel Pollet with any questions.