We recently partnered with CoreTechnologie in order to add a new Additive Manufacturing product to our line-up. In the words of our CEO, Rob Hassold,
"CoreTechnologie (a 24-year-old software development company) has amazed me with the speed of development and innovation of the 4D Additive software solution, a relatively new product in the industry. They have created a world-class product for Additive Manufacturing in just the past several years that rivals much more costly solutions. Cimquest's goal has always been to bring world-class affordable solutions to our customers, and we are excited to be partnering with such an innovative company as CoreTechnologie."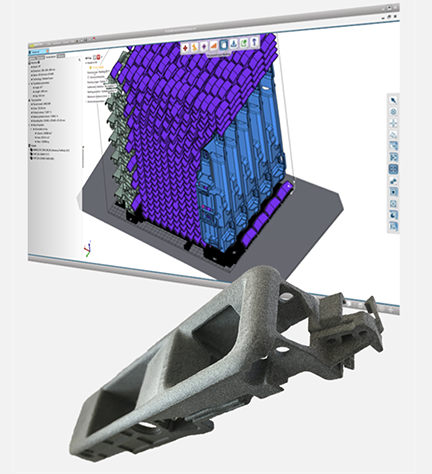 CoreTechnologie provides CAX software solutions across wide-ranging industries. The company consistently optimizes its product portfolio and continues to secure technological leadership in the area of conversion software.
Gamechanger for Additive Manufacturing
The innovative 4D_Additive Manufacturing Software Suite sets new standards. Now for the first time 3D models from all common CAD formats can be read and prepared for additive manufacturing processes directly as an exact, intelligent and light B-Rep geometry.
4D_Additive reads CAD data from 24 different formats such as CATIA, NX, SOLIDWORKS, Creo, Inventor, STEP and JT as exact B-Rep geometry including all product manufacturing information (PMI), attributes, and design history. In addition, old or already existing models can be imported from the 3mf, amf and STL format.
The CAD models optimized for 3D printing and nested on the build plates can be saved in all common formats such as amf, 3mf and STL as well as in common slicing formats cli, sli, abf, svg, sls, usf and g-code.