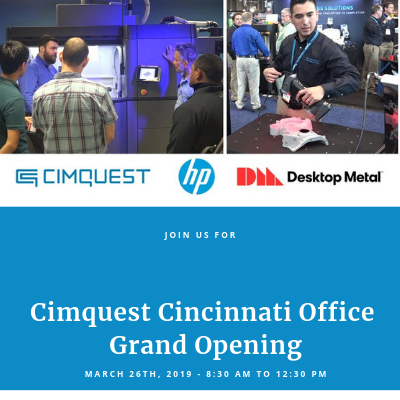 Please help us celebrate the opening of our new Cincinnati office by attending our Grand Opening on March 26th from 8:30 AM – 12:30 PM. This event will showcase some of the latest manufacturing tools and technologies that can help launch your business to the next level. You'll get to meet with Cimquest engineers and product specialists to discuss your unique applications. We'll help you determine the best solutions to meet your needs—even if it's not one of our own.
Event Features
See the latest in 3D Printing, Mastercam CAM Software, 3D Scanning, Reverse Engineering Software, Inspection, and more.
Learn the benefits of Design for Additive Manufacturing and how to achieve a more ideal product design.
Hear presentations from Cimquest Specialists on technologies (listed above) and use cases.
Interact with real 3D printed parts made from a range of engineering grade materials.
Watch live demos of the technology in action.
3D printing brands will include HP Multi Jet Fusion, Desktop Metal, Rize, Formlabs, & Mcor
Register for this event by clicking below.