Cimquest's business is to help people. So, at a time of global emergency, it comes as no surprise that Cimquest and its staff were quick to lend their resources to the fight against COVID-19.
"Our headquarters are in New Jersey, and that has been one of the areas hardest hit by the Coronavirus. Luckily, everyone is chipping in. A lot of our customers are changing what they're doing to help out," shared Shawn Crews, president of Cimquest. While most of Cimquest's 60 employees are working safely from home, a select few are running the 3D printers in their New Jersey lab to produce PPE for medical personnel.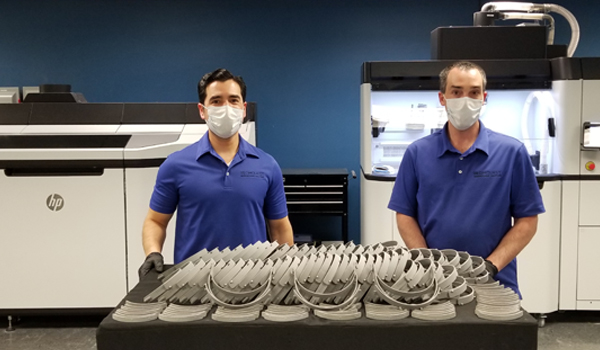 Cimquest Founder and CEO Rob Hassold made sure that this skeleton crew is practicing social distancing and taking extra sanitary measures as they work in the printing labs.
The projects these employees are working on were brought to them by Jimmy Barrera, engineering services manager. Various requests from hospitals had come in to produce headbands for face shields. Barrera assessed each individual need and then consulted Crews and Hassold as to what Cimquest could do to help. In most cases, Cimquest 3D printed the headbands at no charge as a donation. The end customer then assembled their own face shields.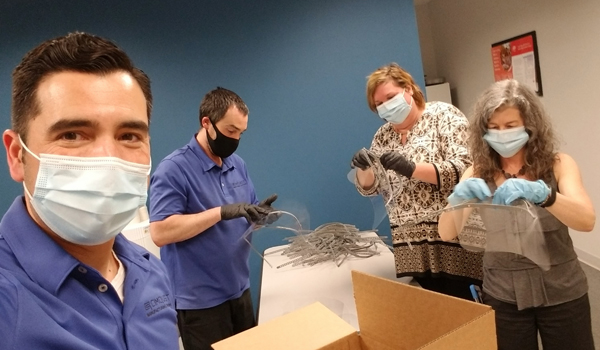 That process evolved after a conversation took place between Barrera and his sister, who works at Morristown Medical Center, about half an hour away from Cimquest's Branchburg headquarters. After his sister mentioned that the medical staff urgently needed face shields, Barrera took it upon himself to personally purchase the plastic shield portions. Cimquest once again donated the 3D printed headbands, which were in this case designed by Avid Product Development for HP 4200 and 5200 MJF 3D printers.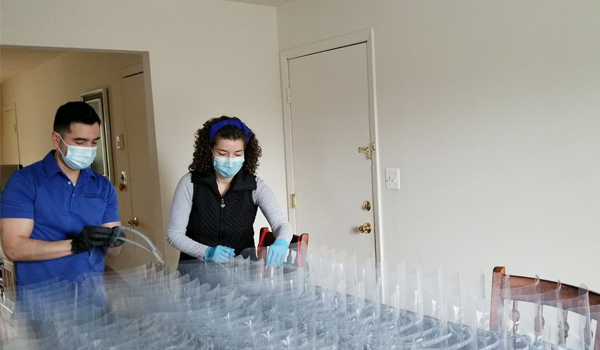 The headbands were manufactured from PA12 (Nylon12) on the HP 5200 MJF 3D printing unit. 300 headbands were printed in approximately 10 hours. Once the headbands were finished, Barrera and his wife assembled the completed face shields at home. The next day they delivered 94 face masks to Morristown Medical Center at absolutely no charge.
Purchasing the plastic shield and assembling the complete face shield became the norm when Aerosport Additive agreed to partner with Cimquest in donating another 400 units of the shield portion of the mask. These shields were then assembled with the 3D printed headbands and donated to Atrium Post Acute Care of Matawan, Brunswick Urgent Care, CentraState Medical Center, and St. Joseph's Regional Medical Center.
Even as those 400 shields were donated, another donor, GoGoPowerJuice stepped up to donate another 370 shield pieces. These will be assembled at Cimquest and donated to hospitals and clinics in Staten Island.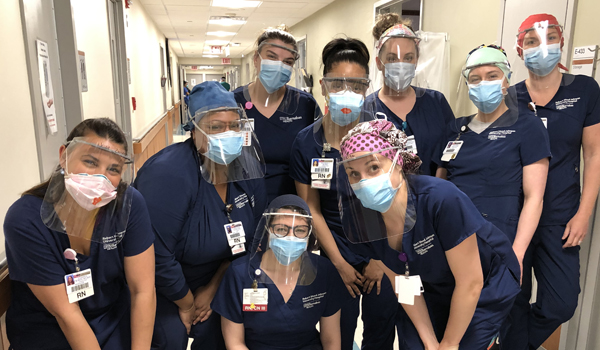 While everyone at Cimquest is proud of their contribution, they want to give credit to the heroes on the frontline of this fight. They were very happy to be able to help in this situation and feel that it has been a real honor. Barrera said, "This has been an extremely busy time for us, but the words of appreciation and the pictures that come back to us make what Cimquest is doing more than worth it."