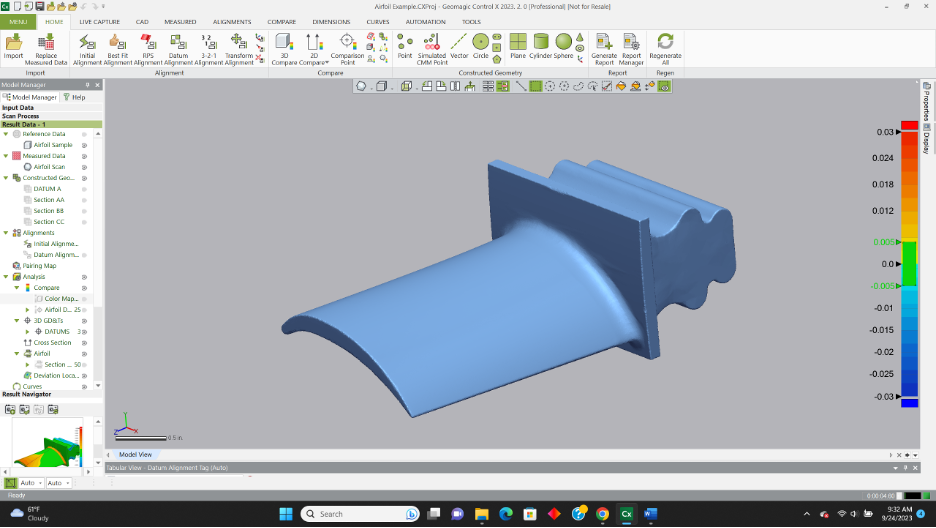 In this month's Metrology Minute, we are going to explore the various measurement tools available within Control X.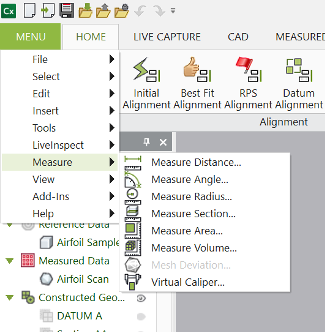 Most of the time, when inspecting parts using Control X, we compare feature sizes and shapes to nominal CAD models. However, the Measure Tool allows you to request typically required measurements needed for analyzing manufactured part features, such as calculating rough distances. Two points are selected on the mesh or point cloud data and the distance between these points is returned. Additionally, various alignment tools are also offered with some of the Measurement Tool options. In this case, we just want a distance calculation with no axis modifier used for alignment.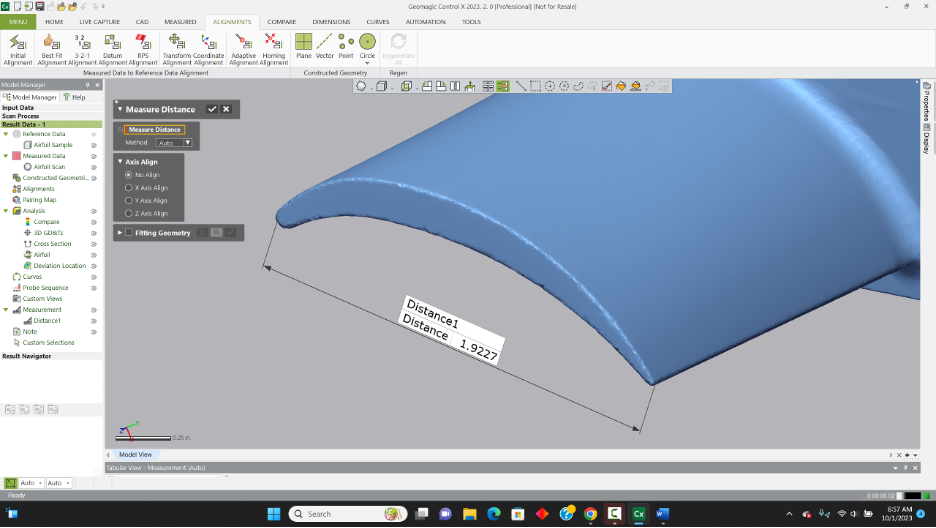 The information is returned to the Measurement Node in the Model Manager, to then be used in reporting. Each of the Measure options will appear in this same Measurement node.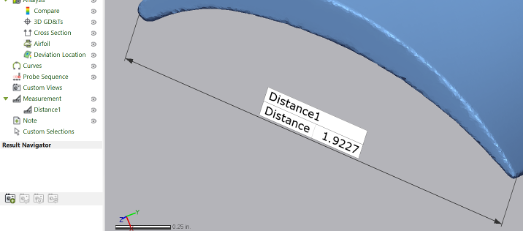 The Measure Angle function enables you to select three points from the mesh or point cloud and Control X will return the angle between them.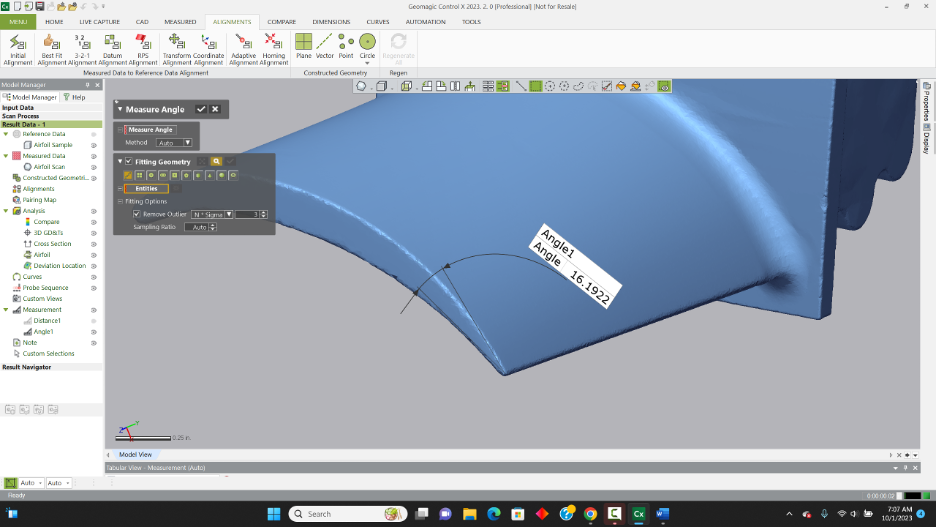 When measuring the angle from an analytic shape, the Fitting Geometry checkbox can be selected to allow the result to be best fit to an analytic part feature. In the case of the airfoil, analytic geometry isn't used.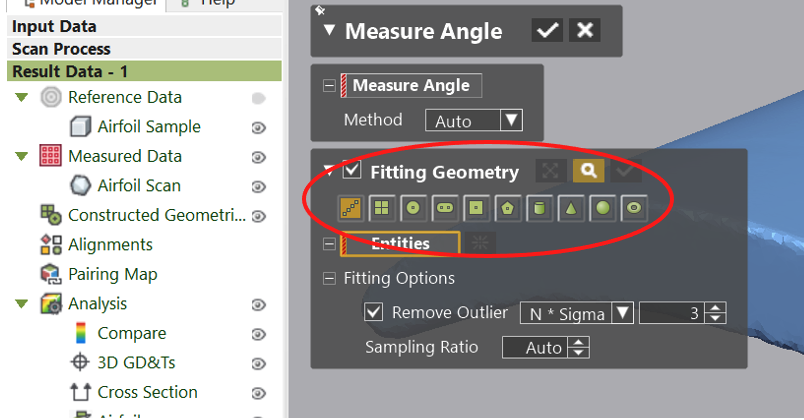 The Measure Radius function has you selecting three points on the radius and again, the Fitting Geometry option may be checked on to enable the radius be fit to an analytic circle.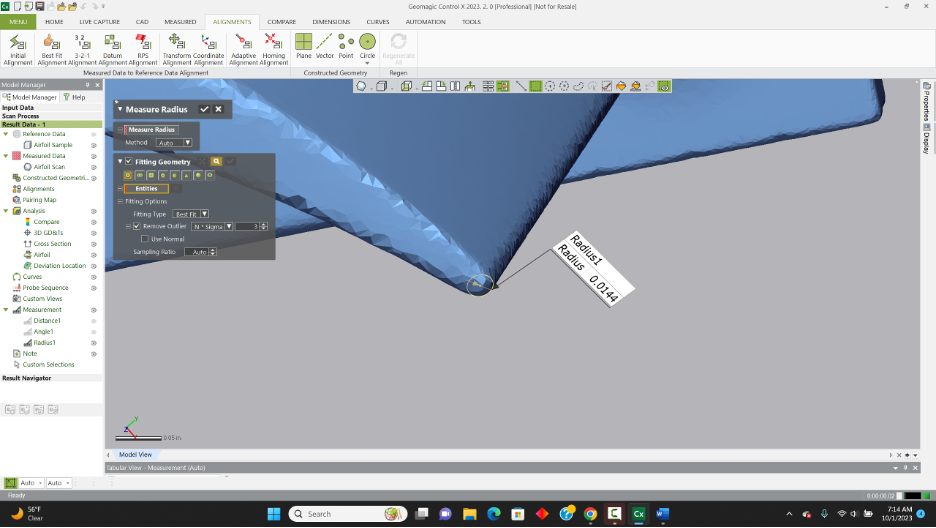 As we progress through each of these Measurement Tools, they are written to the Model Manager, to then be included in reporting.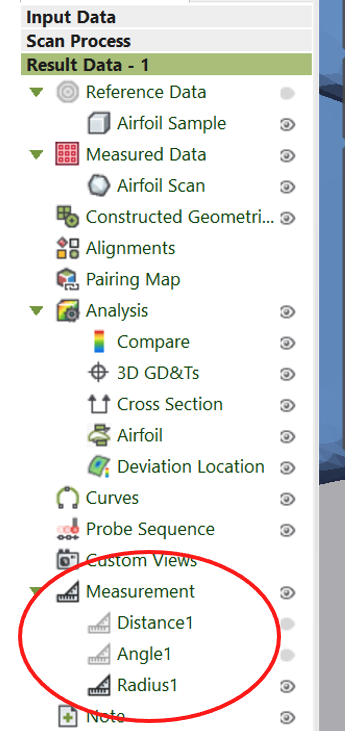 As for 3D calculations, Measure Area (in units squared) and Measure Volume (in units cubed) are also available. These tools necessarily require the selection of either a mesh or point cloud section. Below we take a square view looking into the bottom surface of the airfoil and use Rectangle Select to grab all of the triangles on the bottom side of the surface.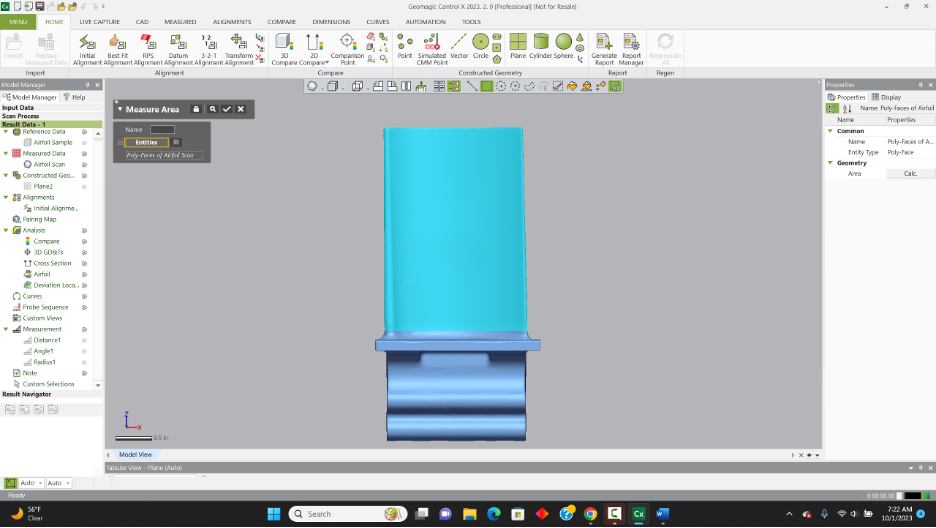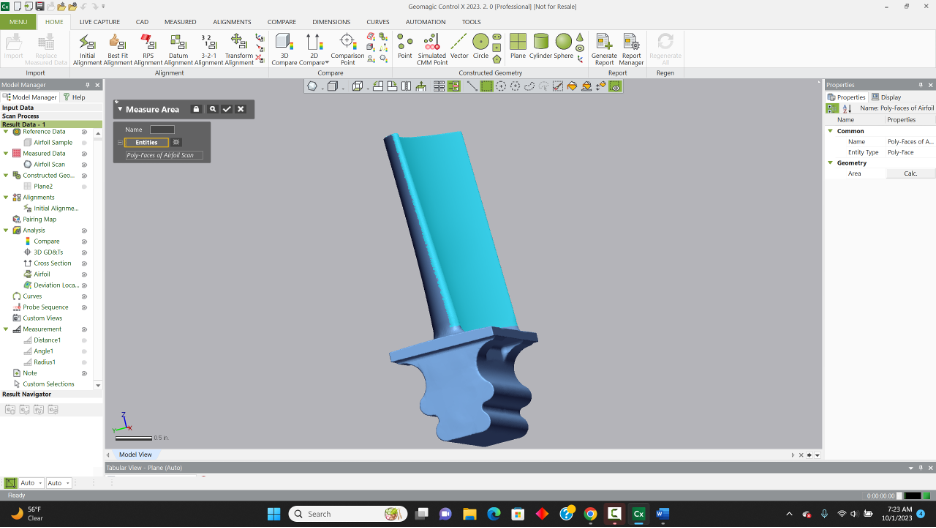 The surface area will be returned in square inches, calculating from the underside airfoil surface.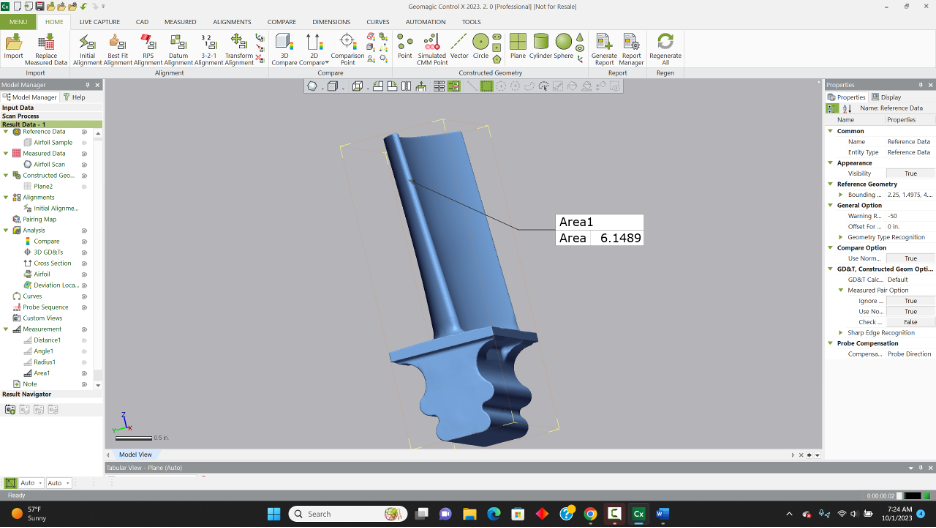 Volume measurements are handled in a very similar manner, except we select all of the triangles on the blade to form a volume for measurement. Volumes may be calculated either by projecting in between a mesh and a plane or by using an enclosed shape.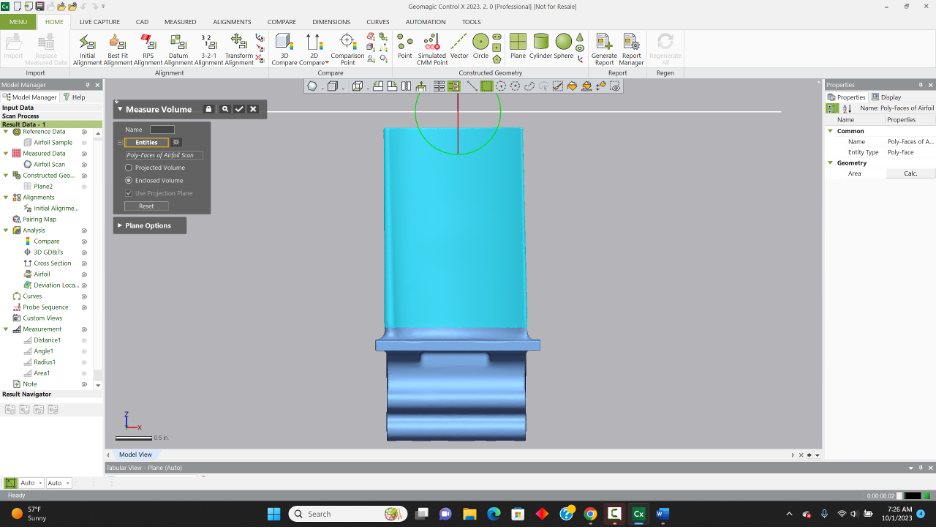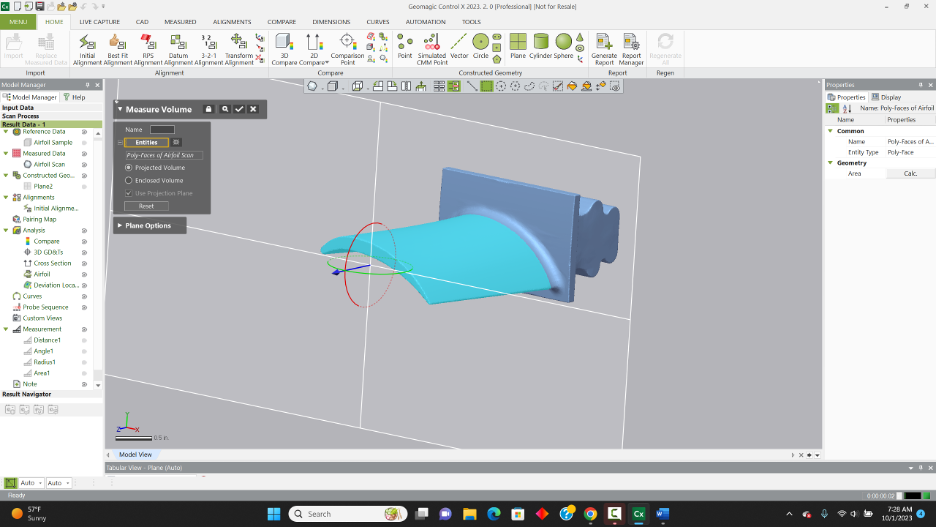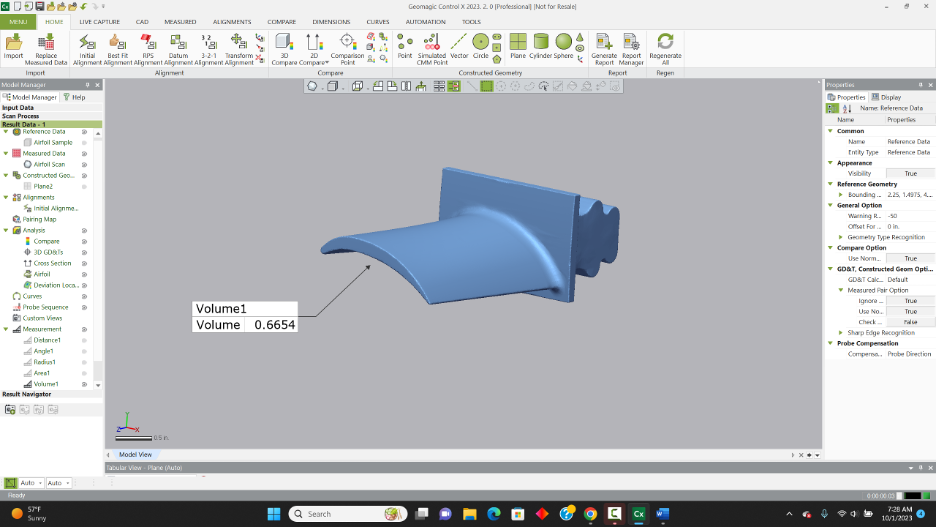 Our final measurement option deploys a technology called Virtual Calipers, allowing you to simulate the use of calipers for internal, external or depth measurements.
In the example below, we selected two points to measure the approximate maximum width of the airfoil, setting the custom direction to along the Y-Axis.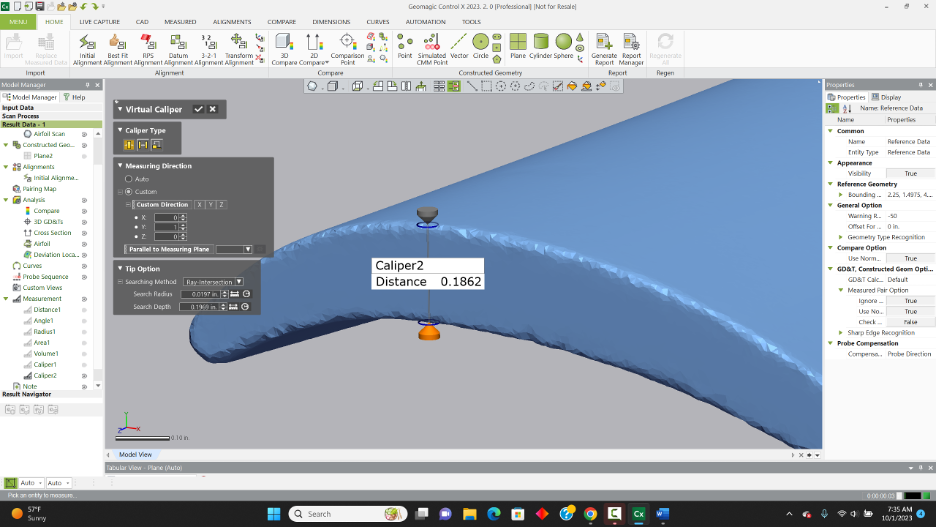 Please contact Joel Pollet for any questions.