2DYEMANSION CONTINUES PATH AS ENABLER OF AM SERIAL MANUFACTURING – ANNOUNCES NEW LIMITED EDITION PRODUCT – THE DM60 BLACK LINE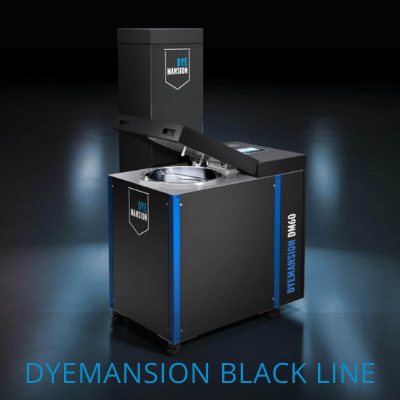 With the DM60 Black Line, DyeMansion announces a special limited edition of their proven DM60 combined with a DM60 Reservoir. It is modified and purpose-built to focus on the black coloring of grey Powder Bed Fusion parts such as HP MJF or Stratasys SAF. The new process offers a real automated alternative to pot dyeing.
The DM60 Black Line will come with the standard DyeMansion ISO certifications such as cytotoxicity and skin irritation. Users can save 50% cost per part and up to 50% cycle time compared to the classical DM60.
Due to the possibility of reusing the process water for up to five dyeing cycles with the DM60 reservoir, the consumption of fresh water and the amount of wastewater are considerably reduced. This bundle is orderable until March 31, 2022.
"The demand for coloring grey polyamide parts in black has significantly increased over the past years. The DM60 Black Line is our tailor-made solution to meet this demand in an industrial way with reduced cycle time and cost-per-part. Our customers can now dye their parts with this new developed process in the proven Deep Black quality in a more efficient and faster way", says Philipp Kramer, CTO & Co-founder at DyeMansion.