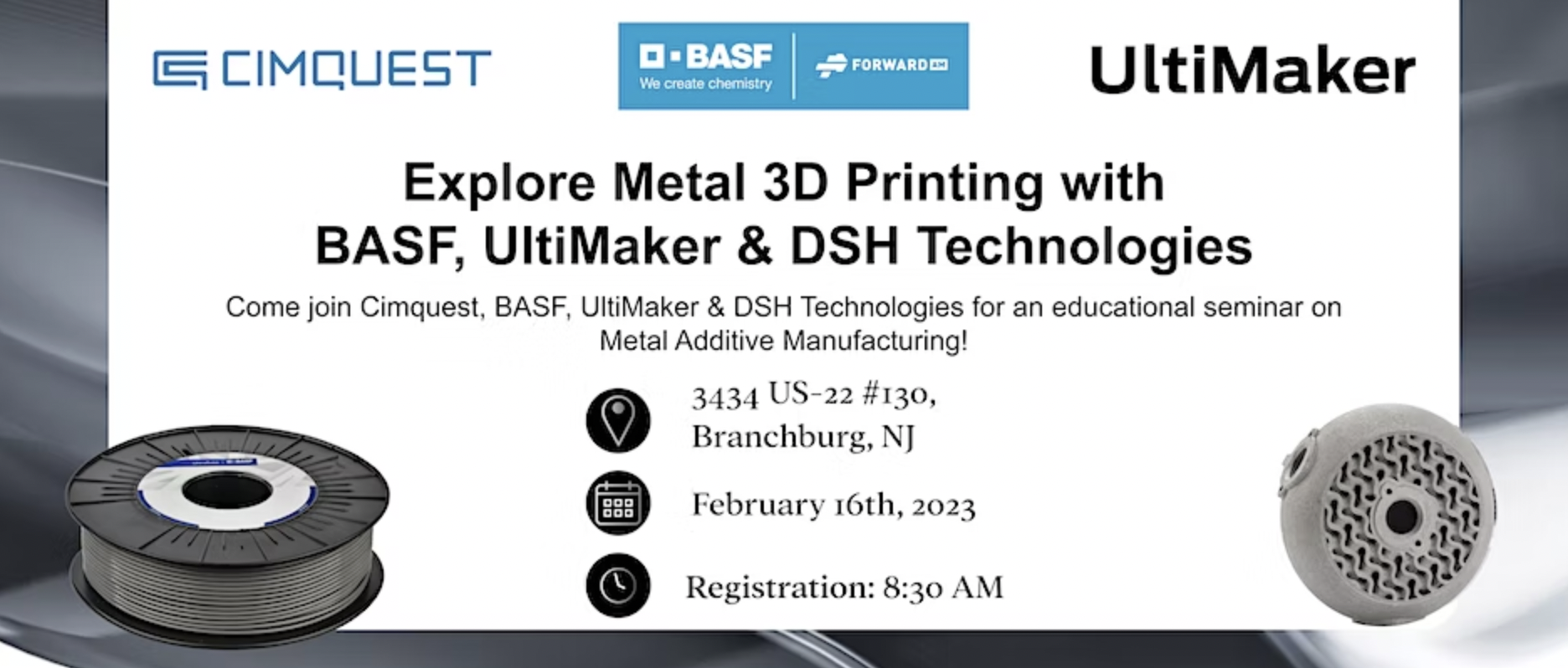 Come join Cimquest, BASF, UltiMaker & DSH Technologies for an educational seminar on Metal Additive Manufacturing!
Thursday, February 16, 2023, 8:30 AM – 12:30 PM EST
Cimquest headquarters 3434 Rt 22West Suite 130 Branchburg, NJ
This seminar will focus on how it's possible to get into metal 3D printing with an accessible cost of ownership. It begins with an introduction of the Ultrafuse® 316L & 17-4 PH metal filaments developed by BASF for use with conventional Fused Filament Fabrication (FFF) 3D printers. The 3 step workflow will be explained as well as why BASF chose Ultimaker and DSH Technologies as partners for this end-to-end process. During the presentation, several applications will be showcased including; tooling, jigs and fixtures, prototypes and functional. In the seminar we will dive into the following questions:
How does this technology work?
Would this solution fit my business needs?
What types of parts can I print?
How does post-processing work?
Why should I care about this solution? How is it going to benefit me?
You will also have the opportunity to participate in a Q&A session at the end of the seminar for any other questions you need answering!
Once the seminar is complete, you will have the opportunity to tour our 25,000 sq. ft. facility that houses multiple Additive technologies including several different types of metal 3D printers. Here you will learn how these technologies compare to each other and the benefits of each.
This unique opportunity combines experts from different areas of Additive Manufacturing for a well-rounded experience. Don't miss this chance to learn more about Metal Additive and get your questions answered by Cimquest, UltiMaker, BASF and DSH Technologies.