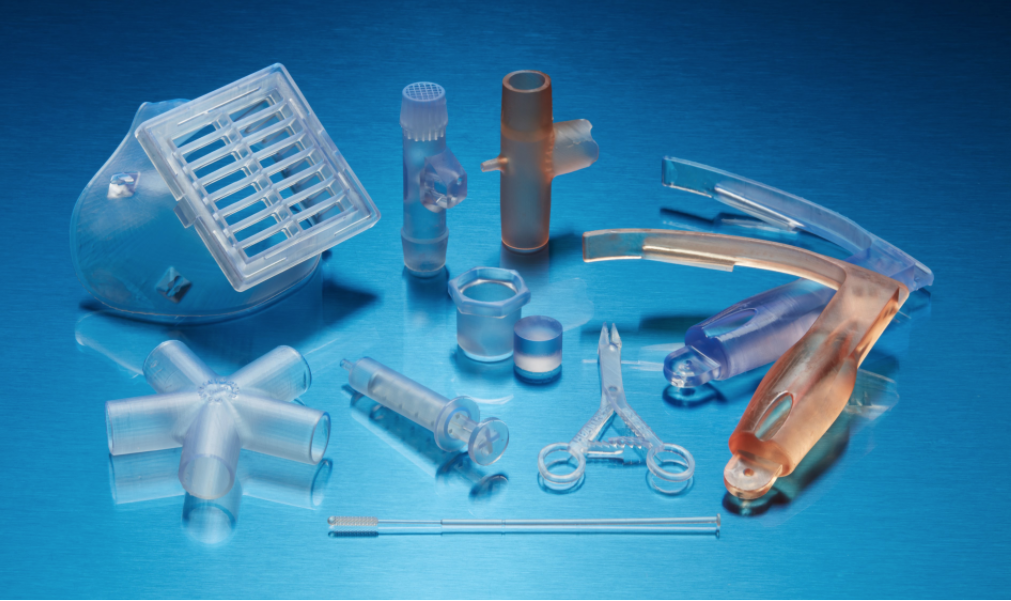 One of the most powerful advantages of stereolithography (SLA) 3D printing is the wide range of printing materials and Formlabs recently announced six new materials across the Form 3, Form 3B, and Form 2 SLA 3D printers. These new resins continue to challenge what's possible with 3D printing by further expanding use cases and design possibilities with our existing printers. Our latest resins support a wide range of industries and use cases within these industries, ranging from healthcare to manufacturing.
The new material families and resins address the following segments:
Engineering, Product Design, and Manufacturing: We are introducing a new family of Flexible and Elastic Resins consisting of Flexible 80A Resin, a reformulation of our current Flexible Resin, and Elastic 50A Resin.
Healthcare: Our new line of BioMed Resins that includes BioMed Clear Resin and BioMed Amber Resin brings biocompatible resins to healthcare professionals across the globe.
Dental: As part of our Materials Partnership Platform with BEGO, we've introduced a novel material for temporary restorations. We are also introducing a new resin for manufacturing custom impression trays, as well as improving our long-term clear material indicated for splints and occlusal guards. These two resins were developed at our in-house ISO 13485 facility.
Flexible and Elastic Resins for Streamlining In-House Production
Manufacturers have long expressed the desire to replace outsourcing and molding of silicone, urethane, and rubber parts in order to reduce long turnaround times and additional labor. With the launch of Formlabs family of Flexible and Elastic Resins, they have expanded their library of high performance, easy-to-use soft materials, and made it possible to produce flexible parts in-house within hours. These resins are well suited for consumer goods prototyping, compliant features for robotics, and special effects props and models.
Flexible 80A Resin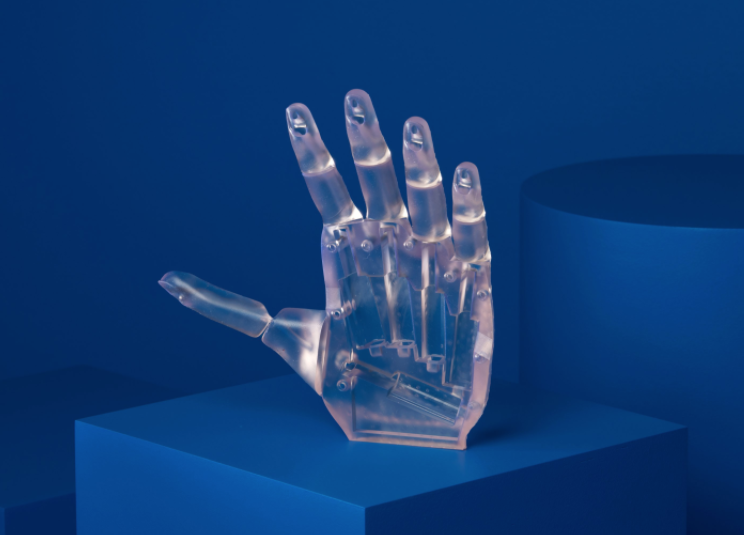 The Flexible 80A Resin is a reformulation of the current Flexible Resin (V2). It is the most stiff soft-touch material in the library of Flexible and Elastic Resins, with an 80A Shore durometer to simulate the flexibility of rubber or TPU. Balancing softness with strength, Flexible 80A Resin can withstand bending, flexing, and compression, even through repeated cycles. Choose this resin for:
Handles, grips, and overmolds
Seals, gaskets, and masks
Cushioning, damping, and shock absorption
Cartilage, tendon, and ligament anatomy
---
Elastic 50A Resin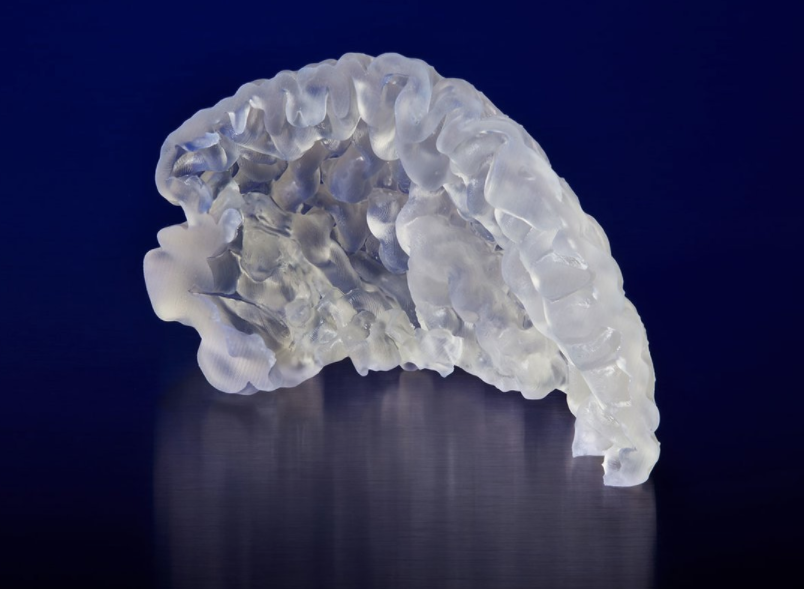 Elastic 50A Resin is a new name for the existing Elastic Resin. With a 50A Shore durometer, this is the softest Engineering Resin. It is suitable for prototyping parts normally produced with silicone. Choose Elastic 50A Resin for parts that will bend, stretch, compress, and hold up to repeated cycles without tearing, and spring back quickly to their original shape. Elastic 50A Resin applications include:
Wearables, such a straps
Compressible buttons
Stretchable enclosures and casings
Soft tissue anatomy
---
BioMed Resins for Expanding Medical Applications
3D printing continues to make great strides in the medical space but there is still a lot of room for innovation, encouraging creative new solutions to age-old problems. How does 3D printing fit into the healthcare industry? Diversifying the types of medical resins can help healthcare professionals with an array of important tasks: creating medical devices, planning surgical procedures, developing custom implants, and conducting research. Formlabs new line of BioMed Resins is a group of biocompatible materials targeted towards use in healthcare applications.
BioMed Clear Resin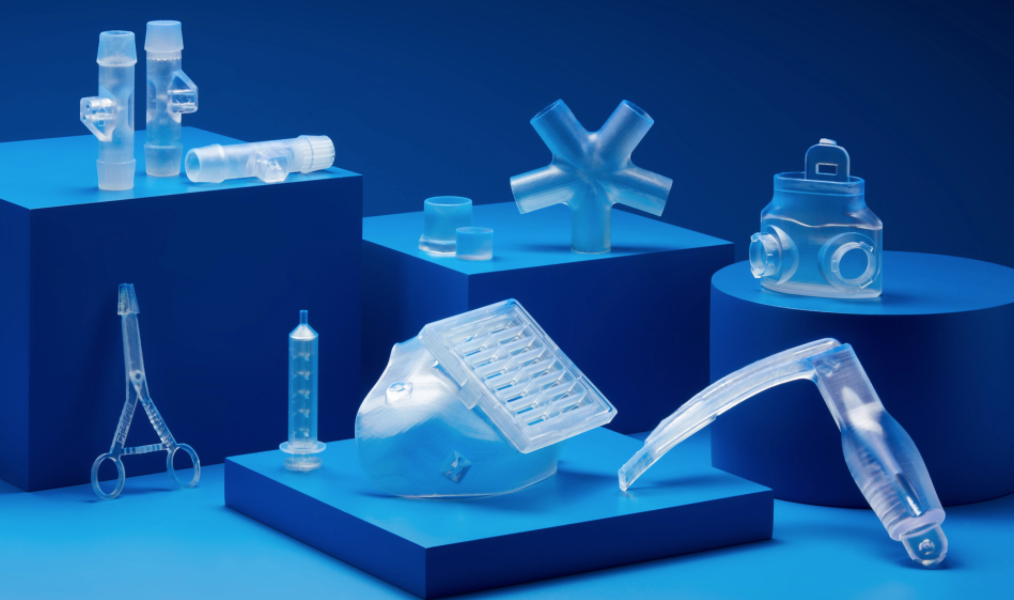 BioMed Clear Resin is a strong, hard resin for biocompatible applications requiring long-term skin or mucosal membrane contact. This USP Class VI certified material is suitable for applications that require wear resistance and low water absorption over time. Parts printed with BioMed Clear Resin are compatible with common sterilization methods and can be sterilized to CDC standards.
BioMed Clear Resin material is well suited for the following:
Medical devices and device components
Jigs and fixtures
Surgical planning and implant sizing tools
Drug delivery devices
Bioprocessing equipment
Research and development
---
BioMed Amber Resin
BioMed Amber Resin is a rigid material ideal for biocompatible applications requiring short-term skin or mucosal membrane contact. Parts printed with BioMed Amber Resin are compatible with common solvent disinfection and sterilization methods.
Use the BioMed Amber Resin material for the following:
Medical devices and device components
Surgical planning and implant sizing tools
Implant guides and drilling templates
Research and development
---
Dental Resins for Custom Trays, Splints, and Temporary Crown and Bridge Restorations
Formlabs also announced three new Dental Resins to their expanding library of dental materials.
Dental LT Clear Resin (V2)
In order to further improve Dental LT Clear Resin, we brought development in-house to fully reformulate the resin. We are pleased to launch our second-generation, long-term biocompatible material for splints and occlusal guards. Durable and resistant to fracture, this color-corrected material prints clear, polishes to high optical transparency, and resists discoloration over time for a finished appliance you'll be proud to deliver.
---
Custom Tray Resin
Custom Tray Resin is a new in-house developed material indicated for custom impression trays. It is designed for direct printing of custom trays used for taking highly accurate definitive impressions, making it ideal for crown and bridge, implant, dentures, and comprehensive cases. This fast printing resin creates one tray in less than one hour, reducing labor time and enabling higher throughput.
---
Temporary CB Resin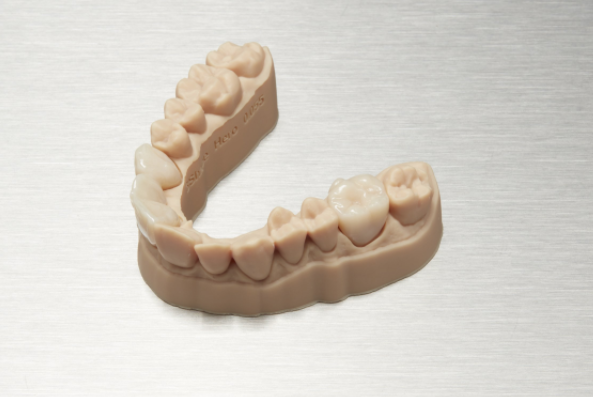 Available in four VITA shades and developed in partnership with BEGO, a leader in restorative dental materials, Temporary CB Resin is designed for directly printing temporary crowns, bridges, inlays, onlays, and veneers. This durable resin can produce up to 7 unit bridges and temporary restorations for up to 12 months use and enables a digital workflow for collaborative processes between dental technician, dentist, and patient.
For more information on Formlabs 3D printers, please click the button below.