by Rob Hassold, Founder/CEO Cimquest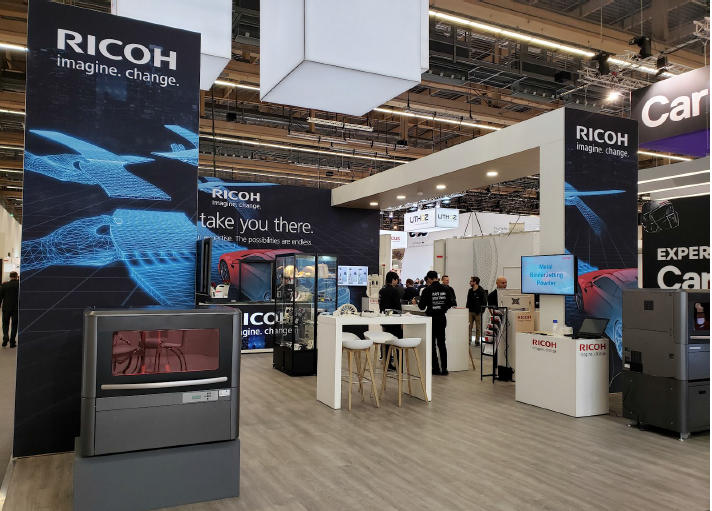 With over 800 exhibitor booths, the Formnext 3D Printing show in Germany has grown exponentially in the last few years of our attendance to become an unmatched force in the industry. I had the pleasure of teaming up with our Director of 3D Printer Sales, Dave Macfie, in an attempt to conquer the show. There are so many news feeds on the Formnext show, but I am going to focus on the three main takeaways that bubbled up to the surface as I walked through the show for 3 days.
Taking a lyric from Madonna "You know we are living in a material world."
It seems like the tide is changing and no longer can a 3D printer manufacturer be on top of the world if they are not going to look outside of their hallowed walls and partner with material suppliers and innovators. As Bill Joy said, "no matter who you are, most of the smartest people work for someone else." With so many imitation (or "me too") products out there, one of the keys to success is having a comprehensive strategy that will enable a diverse set of material offerings, at a reasonable price, and that ensures multisource availability. The number of exhibitors that were in the category of material suppliers was truly amazing. Can you imagine if the role of material development had been left in the hands of just the molding machine manufacturers over the last 140 years? I sincerely doubt that we would have over 80,000 resin options available today. Now we are seeing a dramatic change in the industry where companies are no longer just trying to extrude, sinter, and cure resins that pre-existed the 3D Printing technology. Companies are now developing materials that truly leverage or enhance the technology to provide unique and advantageous properties to the engineers and designers.
Speaking of engineers and designers, there also seems to be another shift occurring that is taking hold more so in Europe than in the US and that is their willingness to embrace new materials. Could this be the effect of the litigious environment in the US or simply the fact that management or engineers in Europe are more open to using a new material? Perhaps they are ready to try something other than the same ABS that they have been using to make that widget for the past 30 years. The ironic part is that ABS has unlimited blends and the FFF technology produces different material characteristics than if the part was produced in the same material on a molding machine. The world, and hopefully the US, is starting to recognize the value and importance of materials in Additive Manufacturing.
The "Me Too" Movement Has a Whole New Meaning in the 3D Printing World
3D Printing got its start about 35 years ago. Many of the core and supporting patents for the main 3D printing technologies (SLA, FDM, LOM, etc.) were filed during the '80s and '90s. With a patent life of 20 years many of those patents expired in the last decade. Due to those expiring patents, there has been an explosion of copycat products with slight improvements and derivations of those core technologies. Those who were early to exploit that opening, and got to the market the earliest, were able to establish their brand and, where it made sense, a distribution channel. It was very evident at the show that many of these "me too" products did not necessarily have all the right stuff to become a true success in the industry. And by "the right stuff" I mean:
Financial backing
Distribution infrastructure (channel, direct sales, etc.)
Enough of a unique product differentiation/value
Efficient manufacturing capability
Getting all of that in place is a herculean effort, especially if you really do not have a unique product differentiation that brings great value to the market. I was amazed at the number of vendors that could not articulate their unique value proposition, not to mention how difficult it was for me to understand their goal for being at the show. One suggestion I would offer to the exhibitors of this show is to improve their booth messaging.
As a value-added reseller of technologies, it is really difficult to parse through all of the noise of the industry and figure out who is well situated to become a significant player in the industry.  This is one of the reasons why Cimquest and our team invest so much in attending these world-class events.
A Means to an End
Another key takeaway from the show was that high volume production is here for resins and about to arrive for metal. Unfortunately for just about all of the technologies, the parts right off of the 3D Printers are not in the desired final state. For example, supports may need to be removed and/or surface finish improved. In order for the parts to get to the desired end state there needs to be some means to get there. At Formnext there were a lot of activities around the post-processing of parts. This, to me, is the real proof that 3D Printing is making the shift from mainly prototyping to mostly production. All of the post-processing companies would not be making such significant investments in technologies necessary to finish parts if they didn't believe in the business opportunity. As a reseller, it is frustrating to see that many of those companies think that they will be able to offer the best in class technologies for every process and application. It is obvious that certain companies that highly automate and connect (modularize) their technology will have a leg up on the competition for large scale users of Additive.
So to sum up the Formnext event, it is the go-to event for 3D Printing. The fact that it is offset by almost half of a year from AMUG and Rapid allows us to keep a more frequent pulse on the industry. We made a lot of new connections and saw some intriguing new technologies that may be valuable for our customers and future customers. To be continued…