By Joseph Castine
A reprint from https://www.fabbaloo.com/news/lessons-from-cimquests-2021-xpand3d-event-part-one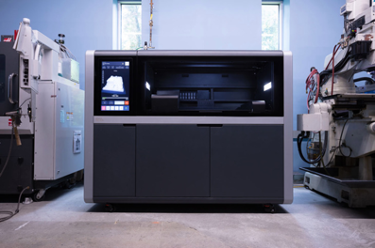 With the rapid expansion of the additive manufacturing industry, metal printing technologies continue to emerge, but this raises the question "Is Metal Printing Ready for Primetime?" The discussion by Nate Higgins (President, FreeFORM Technology), Ric Fulop (Founder/CEO, Desktop Metal), Bob Hedrick (President, CAMufacturing Solutions), Kenneth Fortier (Product Owner – Visualization and Simulation, Mastercam), and Rob Hassold (CEO/Founder, Cimquest) came together to discuss.
The metal segment is one of the fastest-growing of the additive manufacturing market, with some of the technology only recently becoming affordable. This is due largely in part to Desktop Metal, a company dedicated to making this growing technology more accessible for engineers, designers, and manufacturers. Desktop Metal went public at the end of 2020 with a valuation of $2.5 billion. Desktop Metal's recent acquisitions include Adaptive 3D for elastomer and rubber materials and EnvisionTEC for photopolymer printers.
Within this industry, there are several metal additive manufacturing technologies emerging, including Binder Jet. Binder Jet is a technology that Desktop Metal has implemented in their Shop and Production Systems, since the printers use laserjet printing heads which can be found in paper printers around the globe, the systems can produce parts up to 100 times faster than that of their laser powder bed fusion counterparts. With the speed of this technology, it shows great promise for use in mass production scenarios, whereas many other metal additive technologies show greater promise in niche 3D printing applications.
These metal printing applications show great promise when used in series with traditional subtractive techniques such as CNC milling. At this point in the technology's life cycle, the prints are not accurate down to 1/1000th, this is where the availability and existing knowledge base of CNC milling come into account. Using these technologies in series can allow for greater accuracy in dimensional tolerances accompanied by higher part output. Nate Higgins, the President at FreeFORM Technology, which was founded in November 2020 mentioned that with the use of Binder Jet the company has been able to send parts out the door just seven months into the company's lifespan. Compared to traditional metal processes a seven-month period may represent the time required for the part tooling to be manufactured. Showing that if adopted correctly this metal printing technology can greatly decrease the wait times for part production.
Although metal additive manufacturing shows great promise there are some hurdles that need to be overcome before widespread adoption of the technology. As the technology is relatively new there still needs to be some standards and a larger gamut of usable materials. Nate Higgins added that in order for engineers to be able to design with this technology in mind there must be some material standards as well as a larger pool of materials as engineers cannot be constrained to use only a handful of materials. Additionally, Bob Hedrick asserted that the metallurgy of the materials needs to be constrained to ensure that the materials are robust enough to be used in their respective applications.
For more details on our Additive Manufacturing solutions, please click the button below.