Next week we have three different webinars scheduled that will take some deep dives into 3D Printing. All events are free to attend but registration is required. Take a look at what's coming up . . .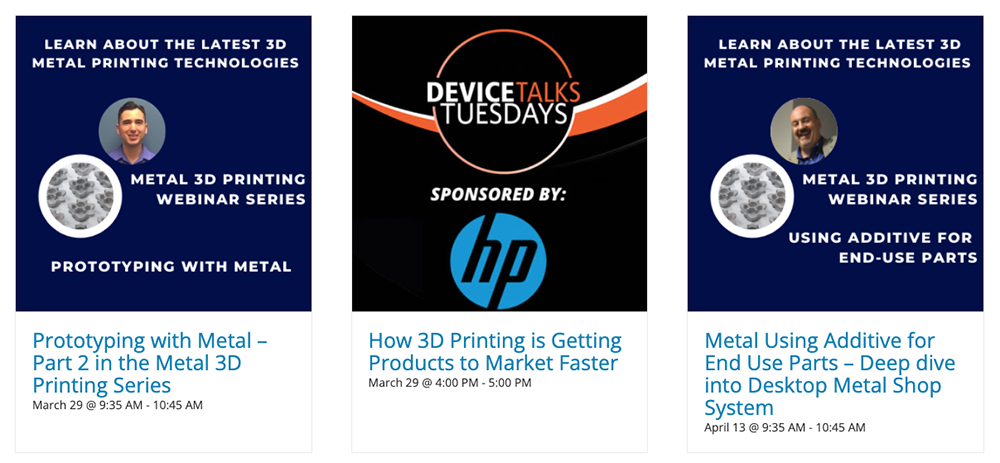 Prototyping with Metal
Tuesday, March 29 at 9AM EDT
In this webinar, you will be introduced to some key benefits and use cases of prototyping with metal 3D printed parts. We'll cover two hot technologies on the market, the Desktop Studio System (bound metal deposition), and Xact Metal systems (affordable metal powder-bed fusion).
How 3D Printing is Getting Products to Market Faster
Tuesday, March 29 at 4PM EDT
With 3D printing, you can print prototypes and end-use parts moving to full-scale production at a faster speed, enabling you to get to market faster, while still reducing costs. Join HP and current customers as we share what it takes to incorporate 3D printing into product development and production of medical equipment and devices.
Metal Using Additive for End-Use Parts – Deep dive into Desktop Metal Shop System
Wednesday, April 13 at 9:30AM
In this webinar, we will provide a brief history of Metal 3D before diving deep into the most commonly used processes. We will discuss some of the best use cases for metal, analyze industry trends for growth, and identify the hidden applications we feel have the most profitability potential.