That's right . . . an in-person event. But don't worry. We are doing everything possible to ensure that this will be a safe social distancing event.
Cimquest will be hosting a unique event next week – July 14th to the 17th! If you are tired of being stuck at home and want to be able to see the latest technologies in 3D Printing, Scanning and Inspection, we have created an event that we will be hosted in our 25,000 sq ft facility. You and up to 4 members of your team can sign up for a time slot offered every hour from 8:30 am to 3:15 pm and take a guided tour of all of the technologies housed at our facility including:
High Speed Production Plastic Printer – HP 5200
High-Speed Full-Color Printer – HP 580
Office Friendly Metal Printer – Desktop Metal Studio
Low-cost Continuous Carbon Fiber High-Temperature Filament Printer – Desktop Metal Fiber
High-Speed Production Photo Cure Resin Printer – Nexa3D NXE 400
Industrial Quality SLA 3D Printer – Formlabs Form 3
High-Temperature FFF Printer – 3DGence f340
Full-Color FFF Printer – Rize XRIZE
Low Cost/High-Performance FFF Solutions from Ultimaker and Makerbot
Learn from our team of experts about the advantages and disadvantages of these different technologies and how they may fit your application needs. Also, on display at our event are several 3D Scanning, Inspection, Reverse Engineering hardware/software solutions, as well as the world's most widely used CNC Programming Software – Mastercam.
Please Note: All attendees, as well as Cimquest staff, will be required to wear protective masks and if attendees wish to interact with parts on display will be required to wear gloves (provided by Cimquest.)
At the conclusion of your tour you can optionally choose to attend an educational seminar (limited to 10 people) on 3D Printing or sit with one of our experts to discuss your application requirements.
Come join us for this safe, interactive open house and learn about these exciting technologies from our team of experts!
We will be offering two great raffle prizes and the winners will be selected from a follow-up event survey after the event. You can have a chance to win one of the following great products.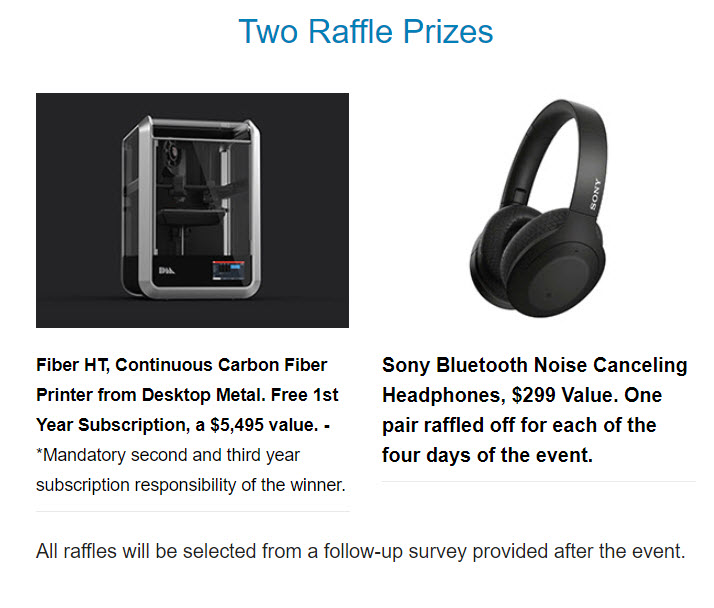 Just click below to register.