Come join Penn State DuBois and Cimquest for an event on how to leverage Reverse Engineering, Inspection, and 3D Printing solutions!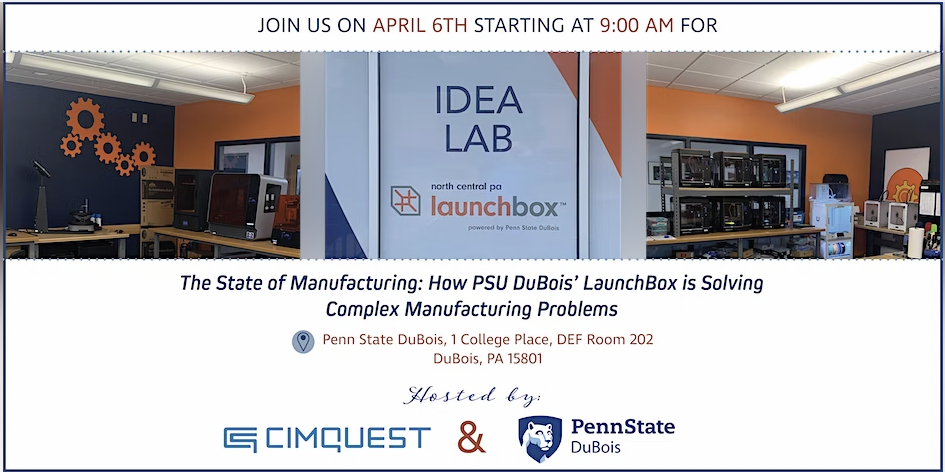 Date: Thu, April 6, 2023, 9:00 AM – 3:00 PM EDT
Location: DEF Room 202 1 College Place DEF Room 202/204 DuBois, PA 15801
During this event, you will have the option to come and go as you please. There will be an opportunity to network, review parts from the various technologies Cimquest represents and witness live demonstrations of 3D Scanning. There will be tours of the LaunchBox as well as two presentations; one from Cimquest and the other from PSU DuBois. The following presentations will be offered twice throughout the day:
Cimquest Manufacturing Solutions presentation at 10:00 AM & 1:00 PM
How to Leverage PSU's Idea Lab given by Brad Lashinsky at 11:00 AM & 2:00 PM
Cimquest's experts will give a presentation showcasing multiple technologies and how they can all work together to solve complex manufacturing goals. These technologies include:
Mastercam for CNC Programming
3D Scanning for Inspection
3D Scanning for Reverse Engineering
Scan Processing
Metal 3D Printing
Plastic & Composite 3D Printing
Additionally, Brad Lashinsky, the Director of the NPCA Launchbox, will give a presentation on how Penn State DuBois is leveraging these technologies to make a difference in the local economy. These presentations will happen twice within the span of the event, so if you miss one because you were touring the LaunchBox, you'll have the opportunity to see it later on!