Fitting Deviation is a settable option in the GD&T family of tools available with Control X. When checking for a GD&T value, such as Flatness, this option enables you to not only see what the fit deviation is but also shows you the results in a clear unambiguous color map display. This lets you see the exact conditions of the surface and not just whether it is in or out of tolerance. For example, the Flatness GD&T callout shown below on the model lets you know that the entire flat surface is within the general model nominal tolerance allowed.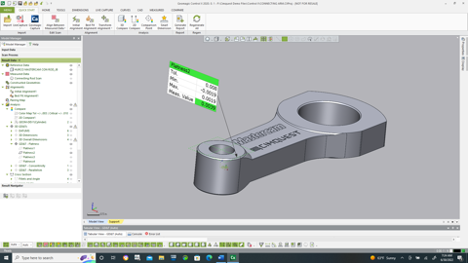 If you turn on the Fitting Deviation tool, a localized color map, you will see precisely what the machined surface really is with regards to Flatness.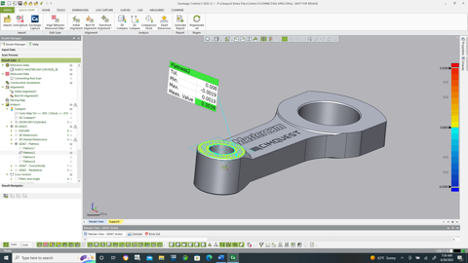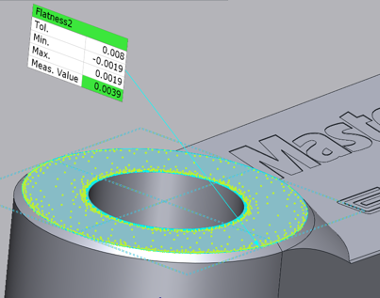 From the image above, you can see that the center portions of the flat surface are somewhat 'concave' (light blue) or slightly undersized as the edges are slightly full (yellow) from the nominal CAD model, providing a slightly 'dished' result after machining. This could be an indication that the toolpath chosen to mill the face might need to change or perhaps the fixturing didn't hold the part securely.
This next example really shows off the power of Deviation Fitting . . .
If you needed to check the parallelism of the top engraved surface, as compared to the bottom surface, which is Datum C in this case, you would turn on the Fitting Deviation for this top surface and compare it to the nominal flat plane, which is Datum C or the bottom flat plane.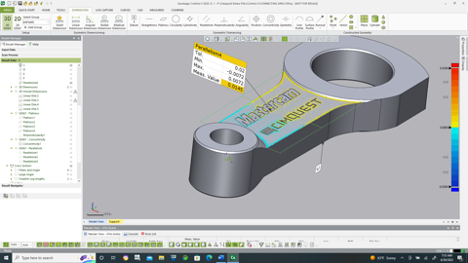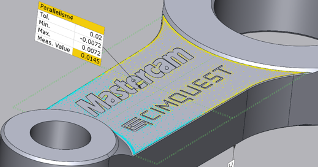 As you review the Fitting Deviation color map, you will notice that the surface near the larger bore is yellow and as it travels down to the lower bore, it turns light blue. The colors indicate a slight 'full' condition near the large bore and a slight undersize condition near the smaller bore. The colors show the plane slopes downwards slightly from the large to small bore. A result like this could be a fixturing condition where the part wasn't secured properly in a vise or perhaps there was an alignment issue when performing the datum alignment.
Please contact Joel Pollet with any questions.