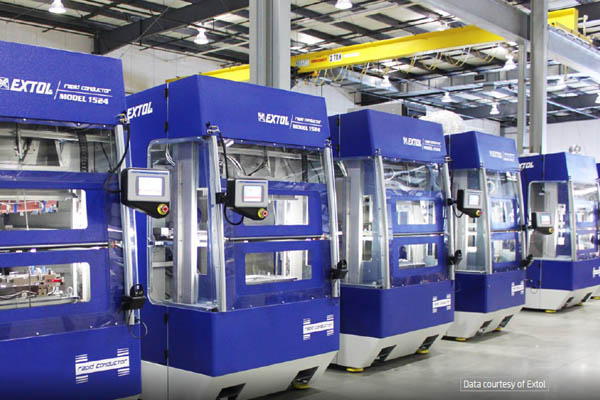 Extol leverages the manufacturing industry's familiarity with polypropylene combined with the capabilities of HP Multi Jet Fusion technology to help customers decrease time to market through design validation efficiency. They specialize in plastics assembly technology, custom automation, and engineering services. With a customer-centric, values-driven approach, Extol serves its customers across their value stream to help them improve the way plastic products are made for industries such as automotive, life sciences, and consumer products.
In Extol's Process Development Center, teams assemble functional prototypes of fluid reservoirs using polypropylene (PP) parts made from injection molding, which are provided by their customers. It typically takes up to 7 weeks for Extol's customers to injection mold these parts, but once the parts arrive at Extol, they can be joined using hot-plate welding in only 1 day. Using injection molding to create the prototypes of these parts delays the functional testing and overall validation processes, so Extol's customers are constantly pursuing faster design cycles and improved validation efficiency.
Extol had been using 3D printing internally for years and realized that the technology could provide value to customers in situations like this.
"We learned from our customers that many of them wanted to use 3D printing to find value in their business beyond prototyping but didn't know where to start," said Kyle Harvey, Business Unit Manager for Additive Manufacturing at Extol.
According to Harvey, using 3D printing to manufacture functional prototypes for fluid reservoirs increases design validation efficiency and allows for the completion of more design cycles in the same amount of time as traditional methods, which significantly shortens the time to final part and, thus, time to market.
"We chose HP Multi Jet Fusion…because the technology is well-positioned to allow 3D printing to make the jump from prototyping to functional, end-use parts," Harvey said.
Despite the wide use of PP as a manufacturing material, especially in the automotive industry, the implementation of 3D printing has lacked a robust PP solution. Extol aimed to leverage its customers' knowledge and acceptance of PP in existing product requirements to create functional prototypes that are similar to production assemblies and to improve functional testing of these design prototypes.
To read the full story and discover the solution to Extol's challenge, please click the button below to view the full case study.