Is your CMM programmed by complex, clumsy software? Is it difficult to find and train CMM operators to develop efficient inspection plans? Are the results/reports generated by your software all text-based and challenging for you and your customers to interpret?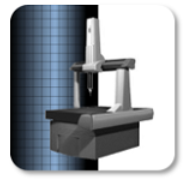 The Universal CMM (UCMM) is incredible technology that runs 'inside' Mastercam and can replace your current CMM programming software. Since this is a software-only solution, you won't need to scrap all of your existing inspection programs. Whether you are running PC-DMIS, MCOSMOS, or the like, those programs can remain on your CMM controller and may still be used to inspect parts whereas all future inspection plans may be programmed through the UCMM.
All programming functions of your CMM are addressable through the UCMM, including probe changers, indexing heads, and special probe support (Star Probes, Disc Probes, etc.). You will not lose any of your CMM's current functionality by deploying the UCMM. Probe calibration and part alignment functions will be handled in a very similar fashion as your current process. If you have multiple CMM's each running its own proprietary software, you can replace them all with UCMM and have a common CMM programming platform.
Running 'inside' Mastercam, the most commonly used CAM software in the world, finding new CMM programmers, or training your current staff is a simple task. Some of the most common CMM's supported are: Brown & Sharpe, DEA, Leitz, Mitutoyo, Wenzel and Nikon (LK). As for Head Controllers; Renishaw, Tesa and Leitz are all supported. Error mapping compensation is performed for geometric, volumetric, orientation, positioning, and kinematic errors.
In summary, as a software-only solution, no new hardware is required so existing CMM programs may be preserved and used as required, running within your legacy CMM software. This UCMM simple-to-learn and use software may replace the cryptic programming systems for all of your CMM's, providing a common U.I. to program them all. An identical logic that is deployed using Mastercam to program all of your different mills, lathes, wire EDM's, etc. New CMM inspection plans get developed inside of the most commonly used CAM software in the world and perhaps most important, none of your CMM's functionality needs to be sacrificed to deploy the UCMM.
For a complete listing of UCMM-supported CMM and Head manufacturers and model numbers or to learn more about the UCMM, please contact Cimquest by clicking below.