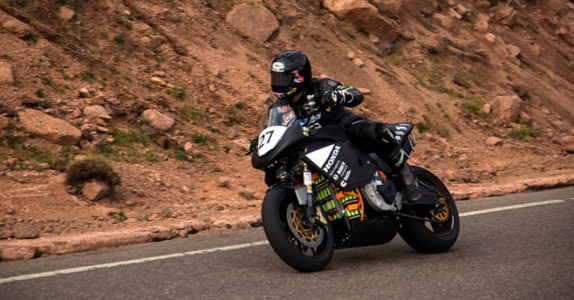 Buckeye Current, from Ohio State University (OSU), is one of the fastest collegiate electric motorcycle teams in the world. A big part of their success is the ability to design and produce one-off motorcycle components to their exacting specifications – quickly and cost-effectively. That's where Stratasys 3D Printing comes in.
The OSU team's intent was to design and build a custom motorcycle that could then be raced at the Pikes Peak International Hill Climb, the second-oldest motorsport event in North America, and the result was the RW-3x motorcycle. To meet the tough requirements of this grueling race, the team needed complex, one-off, custom-designed parts to house some of the most important components of the motorcycle. Here are Buckeye Current's accomplishments in recent years…

A large part of the RW-3x is its main electronic attachment, located on the bottom of the vehicle, under the battery pack. This 18x12x6 inch component is by far the largest 3D printed piece that the Buckeye Current has ever used. It wouldn't have been possible without the large build tray on the Stratasys Fortus 900mc Production 3D Printer. This component was 3D printed in the resolution and tight precision needed for such a critical part, and it functions to shield the team's data logging system and high-voltage electronics from debris and water on the brutal 12.4 mile Pikes Peak course. The designs that the team created were all 3D printed in PC-ABS, PC and ASA materials on a Fortus 400mc and a Fortus 900mc.
Having access to 3D printers allowed the team members to iterate their design ideas. 3D printing and testing until team members got it right without running over budget was crucial! 3D printing is great for cutting costs and creating multi-faceted designs with complex geometries. The team could have used other methods like CNC machining or injection molding when creating their designs, but components created with 3D printing can easily be designed with a number of different functions in mind, from improving aesthetics with logos and complex surfaces to improving performance with waterproofing, weight reduction and aerodynamics. It is especially economical for one-off parts. Using other methods would have turned out to be more costly with longer lead times and may have not been able to achieve the engineering goals as required.
3D printing helped the team to speed to the winner's circle in the Pikes Peak competition, placing third in the electric class. Overall, it was a great test for Buckeye Current's most complicated components, and using 3D printing was a fantastic opportunity for these Ohio State University students! With all of the knowledge Buckeye Current gained through this competition, it would be no surprise for team members to be part of the next generation of automotive engineering professionals.
Looking to challenge yourself (and win $2500)? Enter the Stratasys Extreme Redesign Challenge today to redesign an existing product to improve how a task is accomplished, or design something entirely new that addresses an unmet need. More information at the button below.
[button link="http://www.stratasys.com/industries/education/extreme-redesign/contest-rules" color="default" size="" stretch="" type="" shape="" target="_self" title="" gradient_colors="|" gradient_hover_colors="|" accent_color="" accent_hover_color="" bevel_color="" border_width="1px" icon="" icon_divider="yes" icon_position="left" modal="" animation_type="0″ animation_direction="down" animation_speed="0.1″ animation_offset="" alignment="left" class="" id=""]More Info[/button]