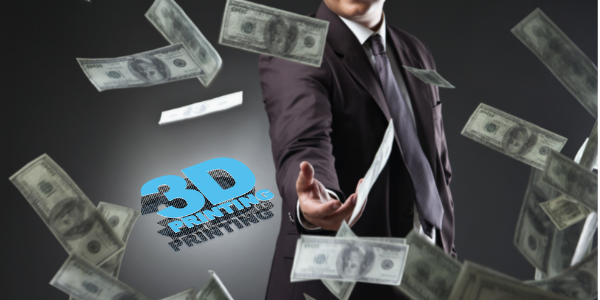 For the last 25 years, my company, Cimquest, has been representing 3D printers so it may be a bit surprising that you will find me pointing out what I feel is a very pressing issue in the industry. Not to get too political but many industries have been warped by the easy money policies of our government & Federal Reserve System. Under normal monetary conditions, startups would have to work very hard convincing investors to provide early capital to help jump-start their businesses. However, between the aggressive flow of money/credit into our financial markets and the overzealous hype in the 3D Printing space, it is too easy to attract big money too early.
In an undistorted economy, most entrepreneurs (by definition) would have to take on greater than normal financial risks in order to organize and operate a business. However, with unprecedented quantitative easing in full swing, money flows to these innovators too easily and too fast, greatly reducing the upfront risks to the founders of the startups. I have watched with fascination as innovators figure out a slight improvement in an existing 3D printing technology only to make it their mission to create an entirely new company with all of the trimmings. And when I talk about the trimmings I mean all of the capabilities, talent, and infrastructure that goes along with being a manufacturing company such as:
Engineering
Manufacturing
Software Development
Documentation
Support
Training
Marketing
Administration
HR
Compliance
Logistics
Sales
Therefore, we have this great growth engine of 3D Printing AKA Additive Manufacturing (AM) that has been seeing exponential growth producing a large opportunity pie of business. The problem is that there has been similar growth in the number of new companies entering the space causing each slice of the pie to be smaller and smaller. Take a look at Stratasys (SSYS) and 3D Systems (DDD) who indisputably put 3D Printing on the map. Over the past 5 years, Stratasys' operating revenue has gone from almost $700M to $521M. 3D Systems (DDD) has gone from $666M to $557M. Why are two of the leaders in 3D Printing struggling to grow their businesses? There have been many problems with too many players entering the space. For the customers, it has created a dizzying number of 'me too' products and companies to choose from and a high risk of companies falling by the wayside leaving the customer without support for their 3D printer investment. Many of these new twists on existing technologies are quite compelling, but in my opinion, most are not compelling enough to create a whole new business entity.
Another problem with the formation of these 'me too' companies is that Intellectual Property (IP) that could be of great benefit to the Additive community gets significantly delayed as these startups go through the lengthy and painstaking process of building a company and technology from scratch. So what is another way to move our industry along in a more efficient and fast way? I recently visited our vendor Desktop Metal in Burlington, Massachusetts. I had an opportunity to see their Forust products first hand. For those who are not familiar with the technology, it is a 3D Printer that prints wood objects that can also incorporate simulated wood grain. This eco-friendly technology takes two waste streams: one from wood product production – Sawdust and the other from paper production – Lignin and recombines them into end-use wood parts. So why did this product leave me in awe? It wasn't just the eco-friendliness nor the speed of production or even the amazing wood-grained realistic/usable products that it could produce, it was the fact that this technology is coming to market at breakneck speed. Rather than the innovators at Forust deciding to build up a company from scratch, they joined the Desktop Metal ecosystem and through that combination were able to very quickly leverage the Shop metal system and the Foundry Robotic sand casting system to create a new product line for the Forust technology. Instead of taking several years to bring this amazing technology to market is now happening in a fraction of the time.
Where this exponential growth of companies hits home for me is that all of these companies need a go-to-market strategy. I have found that companies whose products are less than $15k can sell directly without a Value-Added-Reseller (VAR) and those whose products are above the $250k to $400K price point can afford their own outside direct sales force to sell their products. Even though VARs have value at almost all price ranges, the true importance of a channel sales strategy is in the $15k to $250k range. Prospects are not comfortable buying a $15k+ product over the phone or internet nor are they willing to travel far to see the technology in the less than $250k range. When you throw in the need for localized support and training the importance of a VAR can extend below $15k and above the $250k range. Unfortunately, there are not a lot of experienced qualified VARs in the 3D Printing space and the multitude of 3D Printer manufacturers with products in that sweet spot range ($15K to $250k) are struggling to find suitable distributors. This has created an uncomfortable situation where these manufacturers are trying to run with a hybrid strategy of both a direct sales force as well as an indirect channel sales force. Unless it is properly segmented, or the company's products are so innovative and unchallenged in the market, I have found that this strategy is doomed to failure.
Hopefully, the 3D Printing space calms down and becomes more efficient to be able to better serve the needs of the community. At some point in the future, the Fed will start to reduce its balance sheet and excess market liquidity will begin to dry up. This will in turn cause the seed investors and VC firms to become more conservative and eventually cause the excess credit flows into the 3D Printing space to become more difficult to attract and justify. This will lead to more consolidation in our industry which I believe will help create better efficiencies and profitability to those companies who really earned the right to become a force in 3D Printing. However, in the meantime, if you or your company needs help in navigating this complex world of 3D Printing, feel free to reach out to us to leverage our 25 years of experience in Additive.