From Quick Designs to High Performance Parts: Explore the New Formlabs Draft and Rigid 10K Resins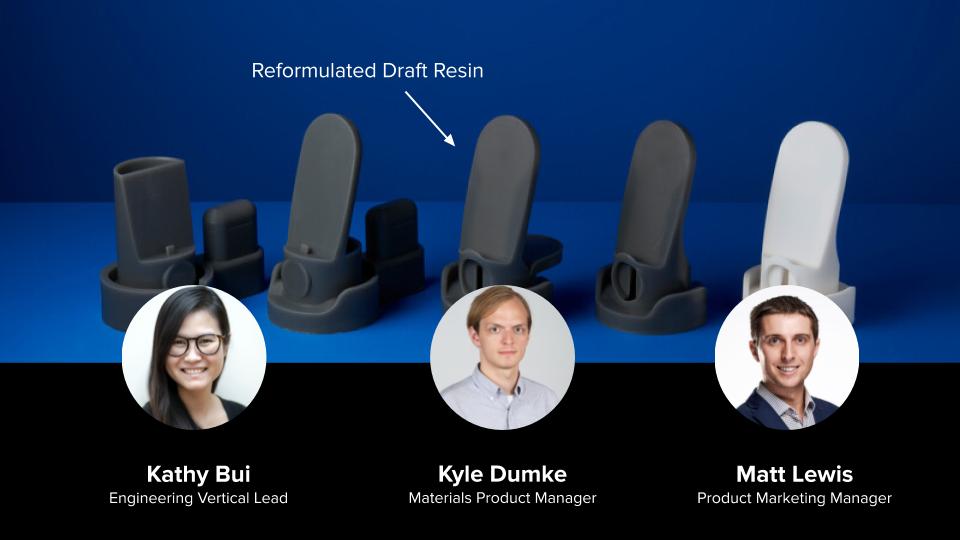 Formlabs just reformulated their fastest 3D printing material, Draft Resin, to enable quick design iterations in-house. This is because in the product development cycle, time is of the essence. You can't be waiting around for weeks to get parts delivered from outsourcing.
As designs evolve and you're prototyping for functionality, performance is key. Alongside Draft Resin, the Formlabs material team also launched a new high-performance material, Rigid 10K Resin, which is ideal for stiff, strong, and thermally and chemically resistant industrial parts.
Live Webinar: November 10th at 2:00 PM EST
These two new resins expand what is feasible with stereolithography 3D printing materials. On November 10th, join our product managers who helped develop these materials for a fireside chat.
Here's what you will learn:
How industrial applications like injection molding and wind tunnel testing are possible through our new Rigid 10K Resin
The chemistry behind fast printing materials and how Draft Resin prints up to 4x faster than other materials
How Formlabs manufactured over 1,000 bottle openers per week using Rigid 10K Resin (and how Draft Resin was used to quickly prototype the design)
Click the button below to register for this webinar.