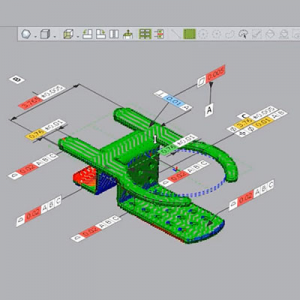 Join Cimquest for an in-depth look at PMI-driven inspection using CAD (SOLIDWORKS) and Geomagic Control X. In this workshop, you will see the seamless integration of Product Manufacturing Information from CAD driving a complete part inspection in Control X. By setting up PMI dimensions with tolerances, datums, GD&T, notes, labels, etc. in SOLIDWORKS using 'Dimension Expert', the inspection of the part then becomes fully automated.
Presentation topics include
What is Product Manufacturing Information and why is it important to you?
How does non-contact inspection work?
Eliminating mistakes of interpreting inspection drawings by having the parameters for inspection entered one time in CAD and then automatically read and executed by Control X.
EVENT DETAILS
Date:  Wed, March 14th
Time:  9am-11am & 1pm-3pm
Location: Cimquest Inc., Branchburg, NJ
Cost: Free
Who should attend?
Shop owners, Quality Managers, Programmers who also inspect, CAD users whose designs go to machine shops for fabrication, inspectors.
To register please click the button below.