HP's Color MJF Parts with AMT's PostPro Vapor Smoothing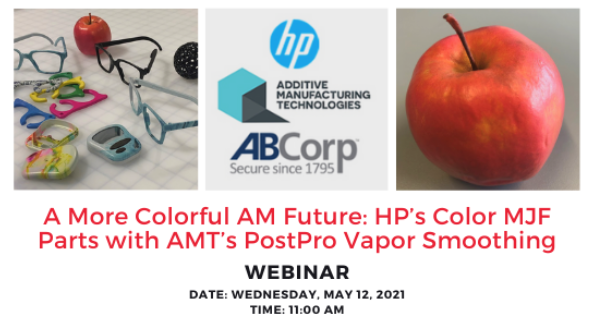 Colored Thermoplastic 3D printed parts via Multi Jet Fusion (MJF) have set the highest standards of color capabilities possible with powder bed fusion processes. These parts still have surface imperfections such as internal voids, residue powder, or partially fused powder among the most common. Significant performance enhancements can be achieved through surface smoothing of color-3D printed parts via AMT's PostPro® chemical vapor smoothing.
Join us for a discussion with AMT(Additive Manufacturing Technologies) and Cimquest customer Neil Glazebrook from ABCorp for a discussion on vapor smoothing 3D printed parts printed on the HP Multi Jet Fusion 3D printers using AMT's PostPro® chemical vapor smoother to enhance part quality. Hear directly from Neil on the benefits of using this technology and how it has affected ABCorp's 3D printing process.