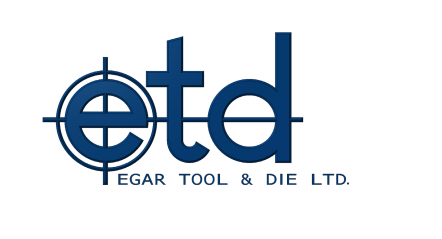 Based in Cambridge, Ontario Canada, Egar Tool and Die is a leader in the production of automotive stamping dies, production stampings and welded assemblies. The company has been supplying North American Tier 1 and 2 automotive companies for more than 40 years.
The Challenge
The automotive industry consists of a vast network of suppliers and vendors producing millions of parts for the thousands of assemblies and subassemblies that go into every vehicle on the road.
While some of those components are cast, forged or machined, a large percentage are stamped or formed from various types of sheet metals using large stamping presses, capable of bending, cutting, forming, coining, and piercing the raw material.
To deal with constant iteration in automotive design and the demand for huge numbers of parts, suppliers must be able to quickly retool and refit manufacturing lines to minimize downtime.
And for many companies, that's where Egar Tool and Die comes in.
At Egar Tool and Die, the challenges are two-fold. First, the company must be able to quickly produce dies to meet customer requirements. But as a producer of more than 15 million stamped parts and welded assemblies annually, Egar – like many of its customers – must be able to quickly retool for different jobs.
To do it, the company is investing in state-of-the-art manufacturing technology, including metal 3D printing.
A Powerful Tool
For Egar engineers, 3D printing has proven to be a powerful tool to overcome those challenges – allowing them to quickly produce both end-of-arm tooling for stamping presses and custom die prototypes for both internal use and customers.
Today, the vast majority – as much as 80 percent – of Egar's 3D printing capacity is dedicated to producing end of arm tooling for their high volume production stamping presses. Using just one Studio System, staff can design, iterate, and integrate components into their production line in less than a week – keeping manufacturing downtime to a minimum.
The other 20 percent of Egar's additive manufacturing is focused on prototyping and developing die components, particularly using materials like H13 tool steel and 4140 chromoly steel, which are often used in stamping dies.
As with end of arm tooling, 3D printing allows engineers to print and test multiple prototype end-of-arm tooling dies with subtly different geometries, and quickly refine designs to arrive at a final part.
In addition to faster production, 3D printing allows engineers to create parts with far more complexity – like optimized end-of-arm tools with high performance that couldn't be justified with traditional manufacturing – yet avoid the cost increases that often accompany highly complex designs.
Using the Studio System, Egar engineers are able to produce end-of-arm tooling and prototype dies with complex geometry – like internal cooling channels – that cannot be manufactured via casting, machining, milling or other traditional methods.
Continue reading the full story by downloading the case study below