Cimquest is participating in the A.W. Miller Manufacturing Partner Presentations & Training on May 24 & 25.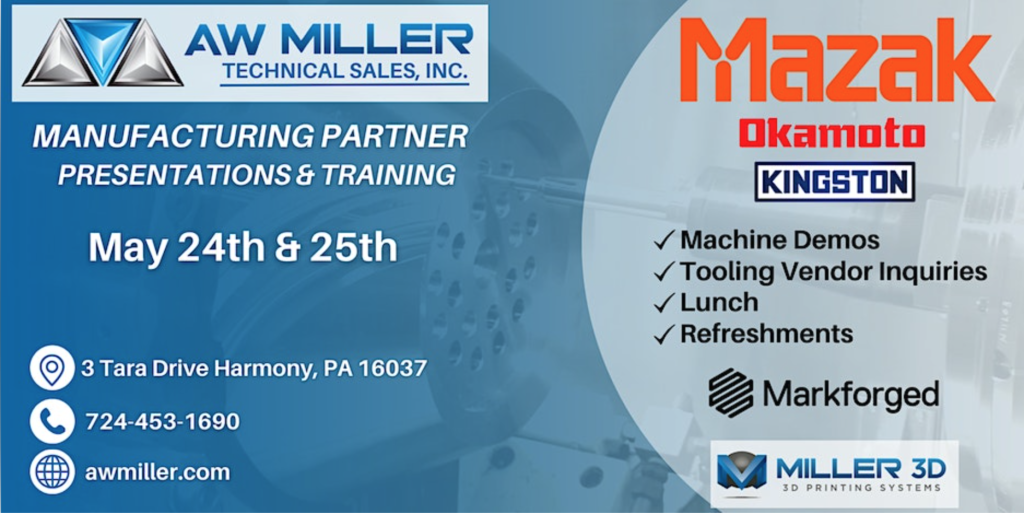 Join us at the AW Milling facility in Harmony, PA to see Mastercam demonstrations from Cimquest along with the CNC machines and a 3D printer.
CNC Machines that will be on display include the Mazak HCR 5000, QT-Ez10, and VC-Ez20, Okamoto ACC-20.40 GX, and Kingston HJ-1100. The 3D Printer that you can see in action will be the Markforged X7 with sample parts and software from their other product lines.
A.W. Miller engineers will be available to go over machine features, provide demos, and answer questions regarding the technology and available automation solutions. In addition, local, national, and international tooling vendors will be available for inquiries and questions regarding the latest technology.
Featured Tooling Vendors:
Okamoto
Blaser Swisslube/ KML Industrial Supply
Kennametal
Sandvik Coromat
Iscar
Schunk
Allied Machine and Engineering
WTO
Chevin Tools
Royal Products
Mastercam
Ph Horn
This is a great opportunity to see Mastercam and CNC machines live in action. Cimquest will also be raffling off a Mastercam Design seat at the event so don't miss out on this opportunity. Click below to register.