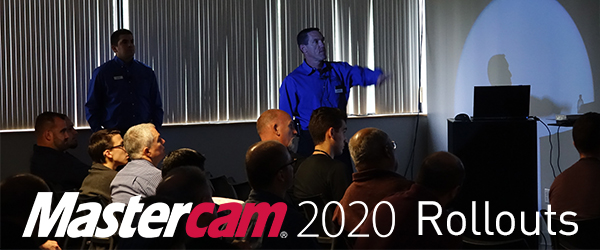 Not only will Xpand3D give you the opportunity to get an up-close look at Mastercam 2020, but you will also have a chance at winning a seat of Mastercam! This is an event that you won't want to miss.
We will be presenting a re-run of our recent Mastercam 2020 Rollout. This informative seminar will highlight all of the enhancements in this year's release, and guide you step by step through the installation and updates from previous versions. Our Application Engineers will provide an overview of the new content, showing you how the new Mastercam features can accelerate and improve your day-to-day workflow. The Mastercam 2020 Rollouts will begin promptly at 8:30 AM each morning and will end at 10:30 AM so you will have time to attend the Keynote Presentations, Educational Sessions and visit with over 30 Exhibitors.
You will also have the chance to win one of our amazing raffle prizes, which includes a seat of Mastercam. Here is what we will be giving away:
A Form3 3D Printer – an industrial-quality desktop SLA 3D Printer from Formlabs ($3,500 value)
A free seat of Mastercam – any product of your choice up to $6,000!
A pair of Apple Airpods – wireless earphones are the sound of freedom ($200 value)
And here's the best part . . . there's no need to buy a raffle ticket! All you need to do to be in the drawing is to attend at least one day of the event and fill out a simple survey. A couple minutes of your time gives you a chance at winning a great prize.
The Xpand3D event is free to attend, but we do ask that you kindly pre-register by clicking the button below.