Fast single cure polymer for heavy-duty parts and injection molding tools
High flexural strength comparable only to dual-cure cyanate ester resins
Isotropic properties for automotive, electronics and industrial components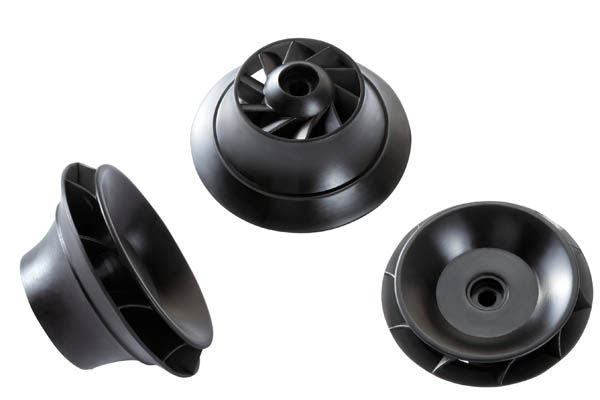 Nexa3D, the maker of ultra-fast stereolithography production 3D printers, recently announced the immediate availability of its latest additive manufacturing material xCE-Black, a high performance polymer for producing end-use plastic parts and injection molding tools in minutes. Nexa3D's new material is a single cure polymer that delivers higher flexural strength compared to those typically achieved only in dual cure cyanate ester resins. xCE-Black has excellent isotropic properties and exhibits long-term environmental stability making it well suited for a variety of automotive parts, electronics and many industrial components as well as the production of injection molding tools.
"Our rapid materials portfolio and reseller network expansion are consistent with our post-Covid-19 plan to deliver greater supply chain resiliency to our customers," said Izhar Medalsy, COO, Nexa3D. "With every addition of new materials and market coverage, we are taking decisive steps to deliver a substantial speed and productivity upgrade to our customers through our fast industrial printers and high-performance polymers at an attractive cost of ownership."
The company tested xCE-Black extensively in a variety of end uses and found it to exhibit excellent thermal stability, making it an excellent match for many automotive, electronics, and industrial components. Additionally, xCE-Black is used to produce injection molding tools for a wide range of thermoplastic polymers including PP, PE, HDPE and PETG. Molds printed from xCE-Black were successfully injected hundreds of times at temperatures between 230°C and 280°C without any visible mold temperature degradation or adhesion, and without the use of any mold release agents.
"When I needed to produce thousands of belt pulleys in our flexible factory overnight, I selected our new xCE-Black material for the job because of its high flexural strength and long-term stability," said Brent Zollinger, Customer Success Lead, Nexa3D. "Within the first 2.5 hours into the project, I was able to print 2,000 pulleys in a single build or 13 parts every minute. That's really fast and extremely practical for serial production of industrial parts."
Throughout Covid-19, Nexa3D continues to expand its collaboration with leading polymer suppliers to unlock the potential of new high-performance materials for additive manufacturing applications. Together with its partners, Nexa3D is committed to help its customers improve their design agility and supply chain resiliency throughout their design and manufacturing cycle, reducing the time required to produce functional prototypes and production parts from hours to just minutes.
To view all the Nexa3D materials, click the button below.