Come see the latest and hottest new technologies in 3D Printing, Scanning, Inspection, and Mastercam!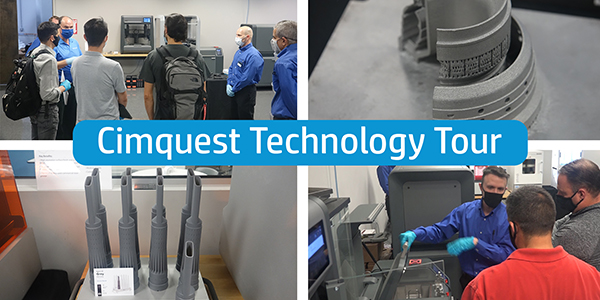 Cimquest is excited to open our doors once again for tours of our Sterling, MA facility.
Wednesday, September 15, 2021
68 Pratts Junction RD
Sterling, MA
Up to 8 members of your team can sign up for a tour with convenient time slots offered from 9 AM to 5 PM (tours will be approx. 1 and a half to 2 hours) Please Note: When registering to attend if you are unable to find a convenient time slot please call (866)-277-8778 ext 4 or you can email sales@cimquest-inc.com and we will happily help set up a time that works best for you.
This guided tour will give you and your colleagues a unique opportunity to see all of the technologies housed at our facility such as:
High Speed Full Color Printer – HP 580
Office Friendly Metal Printer – Desktop Metal Studio
Low-cost Continuous Carbon Fiber Printer – Desktop Metal Fiber
Low Cost/High Performance FFF Solutions – Ultimaker and Makerbot
Industrial Quality Low Cost SLA Printer – Form 3 and Form 3L
Learn from our team of experts about the advantages and disadvantages of these different technologies and how they may fit your application needs. At the beginning of your tour, you can optionally choose to attend an educational seminar on 3D Printing or sit with one of our experts to discuss your application requirements. Also, on display at our event are several 3D Scanning, Inspection, Reverse Engineering hardware/software solutions as well as the world's most widely used CNC Programming Software – Mastercam.
Come join us for this safe, interactive open house and learn about these exciting technologies from our team of experts. Just click below to register.