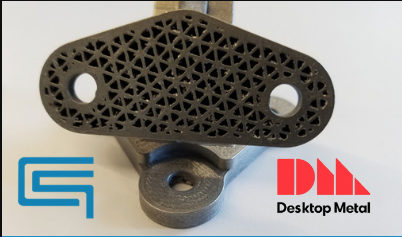 Join Cimquest, your local Desktop Metal Value-Added Reseller, at our HQ and 3D Printing Facility for an in-depth look at metal 3D Printing. You'll see what the future holds for the technology as well as an in-depth look at how Desktop Metal has brought metal 3D Printing into the office environment. Cimquest has the full Studio System+ suite of products including the Studio+ 3D Printer, Debinder, and Furnace. See the process first-hand along with sample parts and a number of reasons to attend.
Unique Presentations
How to choose the right 3D printer.
Live demonstration of Desktop Metal's Bound Metal Deposition Process & Technology overview.
The future of metal 3D Printing.
When to utilize subtractive manufacturing, and when is it best to utilize Additive Mfg.
Tour Cimquest's Advanced Manufacturing Facility and Showroom!
Event Details
Wed, April 17, 2019
8:30 AM – 12:00 PM
Cimquest Headquarters
Branchburg, NJ
Click the button below to register