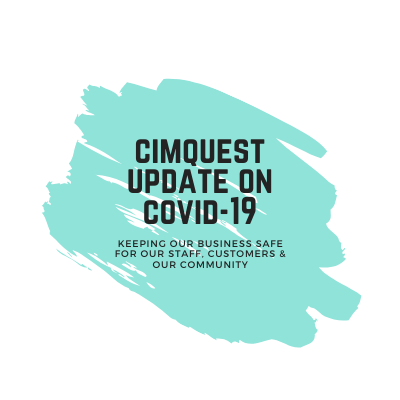 First of all, we wish good health and safety to our entire community. These are challenging times that we are facing; however, we can all work together to help ensure a healthy and productive time for all of us.
Cimquest has been very aggressive over the past several years in creating a service and support infrastructure so that in the rare event that such a situation occurs, we would be completely effective at supporting our valued customer base. Prior to the circumstance that we all now face, Cimquest had 39% of our employees working from home and another 27% able to be fully functional working remotely. With 2/3rds of the company being fully functional at home and most of the remaining third able to work part or most of the time remotely, we are just maintaining a skeleton staff at just a few of our several offices to conduct mission-critical functions such as product fulfillment, shipping, and other services. Thanks to the cloud-based technology that we have been using for many years we are able to support and transact business as usual. Our VOIP phone system allows us to handle our calls as efficiently as if we were in our facilities.
We will continue to provide onsite service to customers who are allowing visitors and are rescheduling appointments for those who have implemented onsite restrictions. For training, in light of the virus situation, we are suspending in-person classes starting March 23 through April 30. Cimquest has been a leader in remote training having trained over a hundred students in that manner over the last several years. We are not canceling classes but will be offering training as remote classes as normally available with every class. This option creates an interactive experience with a live instructor that has proven to be very effective. Any students currently registered for training classes during March or April can opt for remote attendance or if they would prefer they can reschedule to a later date this year with no cancelation fees. Any new registrations for classes through April will be remote, and we will be updating our website to reflect any additional changes.
Cimquest is taking this downtime to bring on several new employees and train those new staff members so that we are even better suited to support our valued customers. We are continuing our investment of time and money in bringing on some new products and services that will benefit our current and future customers. Additionally, we are working on improving and streamlining our processes so that customers can experience an even better level of support and service in the future. I encourage you and your companies to make the investments now to be able to take advantage of the spike in business opportunities that will most likely come about later on in the year.
To shed some sunshine on trying times I will share some information posted by Ashok H. Varma on Linkedin:
China has closed down its last coronavirus hospital. Not enough new cases
Doctors in India have been successful in treating Coronavirus. Combination of drugs used: Lopinavir, Retonovir, Oseltamivir along with Chlorphenamine. They are going to suggest the same medicine, globally
Researchers of Erasmus MedCenter claim to have found antibody against coronavirus
103-year-old Chinese grandmother has made a full recovery from COVID-19
Apple reopens all 42 china stores
Cleveland Clinic developed a COVID-19 test that gives results in hours
S Korea number of new cases is declining
Italy hit hard, experts say, only because they have the oldest population in Europe
Scientists in Israel to announce the development of a vaccine
3 Maryland patients fully recovered; able to return to everyday life
Canadian scientists are making excellent progress in Covid-19 research
San Diego biotech company developing a Covid-19 vaccine in collaboration with Duke and National University of Singapore
Tulsa County's first positive COVID-19 case has recovered
All 7 patients getting treated in Delhi have recovered.
Plasma from newly recovered patients from Covid -19 can treat others
Hopefully, these positive developments from across the globe will lead to a shortened virus cycle here in the US.
Thank you for your business and valued relationships! The Cimquest team is ready and able to support your manufacturing needs during these trying times. Wishing everyone a healthy and prosperous year!
If you have any questions or concerns, don't hesitate to reach out to me (732)699-0400 x220 or any of our team members. We are here to help!
Best,
Rob Hassold, Founder/CEO