It's been 5 years since we began our partnership with Hurco CNC and Alta Enterprises. We are extremely happy to continue that relationship by using and showing the great capabilities of their CNC Machines. We first received a Hurco VM 10Ui 5 -axis mill and a Takumi H10 VMC in Sept of 2017. The VM 10Ui has made its way to a new home running production parts and we now have the used Takumi H10 CNC milling machine available for sale for a great demo unit price.
We need to move this amazingly accurate and rigid double-column mill out in order to get a new 5-axis Hurco in its place. Here are some specifications of the H10 and if you're interested, please contact Ray Dominguez at rayd@altamachinetools.com or 484-695-9435.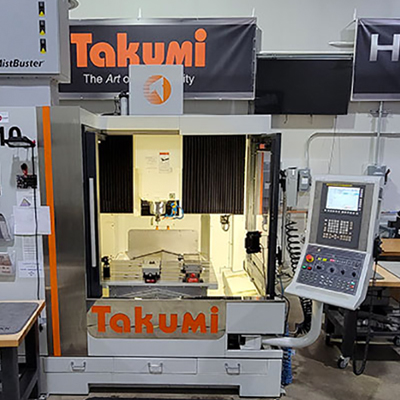 The Takumi H10 CNC machine is a world-class machine built for die/mold, aerospace, and high-speed applications.
Machine Specs:
Control Info- FANUC© 31i-MB Series Control
The Fanuc 31i control has 100 tool offsets and work offsets G53-G59
Travels- 40.16 x 27.56 x 19.69 in (1,020 x 700 x 500mm). Glass scales on all axis
Table Size- 41.3 x 27.6 in / 1,050 x 700 mm
Table Max. Load- 1,760 lbs / 800 kg
Spindle Speed- 15,000 rpm Big Plus® inline direct-drive spindle
Motor Power- 20.1/24.8 HP (15/18.5 kW)
Spindle Taper- CAT 40
Coolant thru and Airblow spindle.
Spindle chiller
Magazine Capacity- 30 tools
Rapids- 1,259 in/min (32 m/min)
Max Feed- 787 In/min
Machine Net Weight- 20,020 lbs / 9,100 kg
The machine has a Data Server that works as storage and programs can be executed directly from it without moving the program to CNC memory, with no loss of feed or starving for data such as a DNC connection. If a program is edited at the machine on the data server it can be retrieved for backup and storage directly at a network PC.