Today we are going to talk about the enhanced functionality to the Thread feature in SolidWorks 2017, mainly using multiple start threads. There are various reasons why someone might use threads with multiple starts. The main one is that it allows the lead distance of a thread to be increased, without changing its pitch. This proves useful when fine threads are required, but at the same time you want a quick advance, for example like that on camera lenses.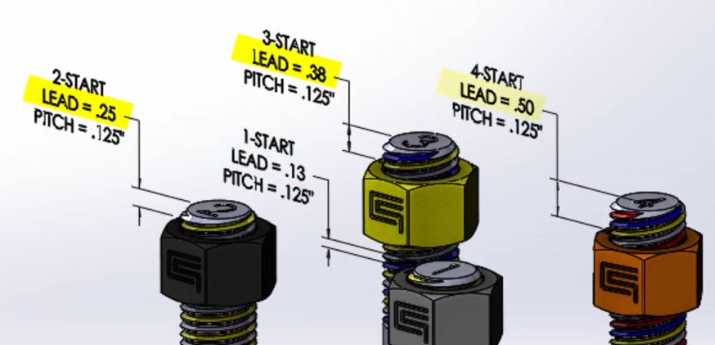 In our examples, we have a single thread with a pitch of 1/8". One full turn gives us a Lead of 1/8". And in the other, we have a 4-start thread. One full turn here, gives us a Lead of 1/2″, allowing for a quick connect and disconnect. In both examples, however, 1/8" pitch is maintained.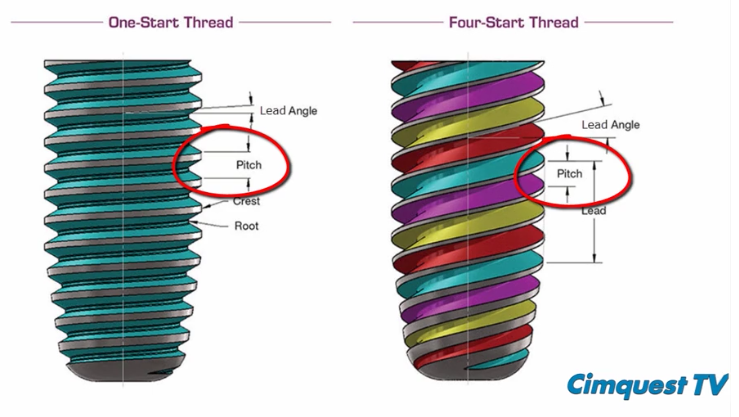 Another design advantage of a multi-start thread is that more contact surface is engaged in a single thread rotation. A common example is a cap on a plastic water bottle. The cap will screw on in one quick turn but because a multi-start thread was used, there are multiple threads fully engaged to securely hold the cap in place.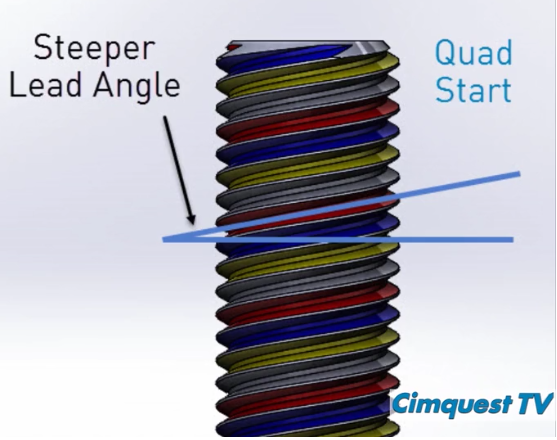 In addition, because the lead angle is steeper, less force is required to fully tighten one part onto another, like a cap or lid on a container. Therefore, consumer products that require a tight seal often have threads with multiple starts.
So, how do you add multiple start threads in SolidWorks 2017? It's actually very easy to do. While in the Thread Feature Property Manager, expand the Thread Options menu, check the new Multiple Start box, and toggle the number of starts to the desired amount.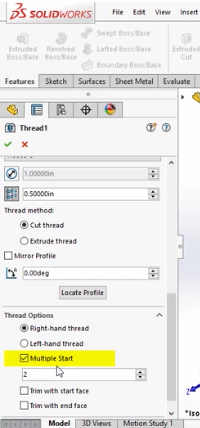 Before you click OK, use the new Trim with Start Face option, which will clean up the end face without any additional steps.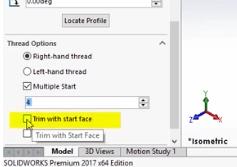 You will end up with a quad-lead thread, each thread being represented below by a different color. It travels four times the distance in one turn, all the while maintaining the pitch and surface engagement of a single lead thread.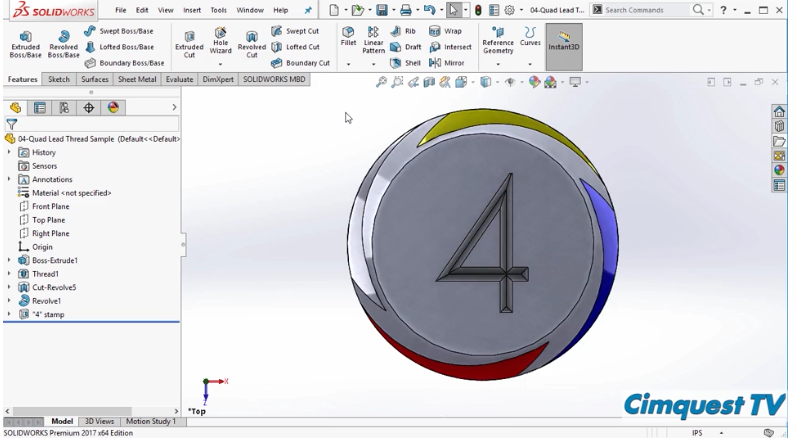 The new Multiple Start Thread Option in SolidWorks 2017 allows you to create special complex thread geometry, with one simple check box! Please be sure to sign up for our 2 Minute Tuesday video series to receive tips and tricks like this one in video form every week. More info at the button below.
[button link="https://cimquest-inc.com/2-minute-tuesday/" color="default" size="" stretch="" type="" shape="" target="_self" title="" gradient_colors="|" gradient_hover_colors="|" accent_color="" accent_hover_color="" bevel_color="" border_width="1px" icon="" icon_divider="yes" icon_position="left" modal="" animation_type="0″ animation_direction="down" animation_speed="0.1″ animation_offset="" alignment="left" class="" id=""]Sign up[/button]